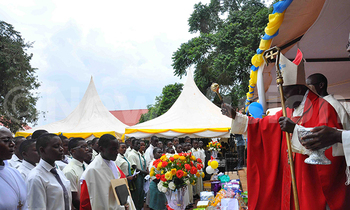 Emmanuel Cardinal Wamala, also Archbishop Emeritus Kampala Archdiocese, has cautioned candidates of this year's national examinations to desist from malpractice. He made the call on Thursday at Kisubi- Mapeera Secondary School, off Entebbe Road, where hecommissioned a double-storey building named after him.
He also blessed the candidates, and the school, which also marked 17 years of existence. Wamala administered the sacrament of confirmation on 17 students"There is no need for you to go into an examination room with fear because you have been preparing for these exams. Prepare calmly and answer the questions with confidence and victory will come.
Read hard and trust in the lord and every success will come your way," Cardinal advised.
Examinations organised by Uganda National Examinations Board (UNEB) for Primary, Ordinary and Advanced Levels, will commence later this month and end early November
He tipped the candidates on strategic revision, noting that they need to reflect on what they are reading to enable them give appropriate answers.
"If you manage to sit down to reflect and also answer questions well, it will help you to succeed in your examinations, even in future," Cardinal Wamala said. He commended the school management, and challenged it to carry forward the ideas of the first missionary Pere Lourdel Mapeera and Brother Delmas Amans, whose history dates to 140 years.
And we can say that the foundation of the school has been laid, now it's the time for students of today and those of tomorrow to strive for excellence in all areas of education.
"My dear grandsons and daughters, your nearness to examinations must not remain a mere signpost on the side-of the hedge but translate it into an academic and social parallel line and be a symbol of success and development," Wamala stressed.
Adding: "I wish all candidates success in their coming examinations, I will pray for all of you so that you succeed and keep on striving for excellence because the country needs you."
In attendance were the headmaster Joseph Ddamulira Ssewakiryanga, school founder Fr Vincent Mulumba, teachers and several priests.
The Cardinal Wamala laid a foundation stone for the new Chapel and Dining Hall building, and encouraged the students to seek God's guidance."You are baptised when you are young.
Today, you have been confirmed in your religion. Always remember this day, and never convert from your religion, and your recognised Christians in Catholic Church, you can't stand for any duty, I can say that your from girlhood to womanhood and boyhood to manhood, now you soldiers of Christ," Wamala said
However, Ddamulira congratulated the newly ordained priest from Masaka diocese, Stephen Mayanja an alumnus of the school and warded him sh2m.