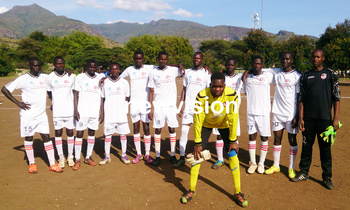 Having contained countless goal attacks and even scored a goal of their own from the spot in a 3-1 loss to Maroons FC, Moroto United Coach Keri Hussein Ali says his team will fight for a win in their next home game against Paidha Black Angels on Thursday.

"Two defensive errors and one goalkeeping mistake cost us the game despite putting up an excellent football show. I must say it was an honourable loss," he emphasized.

Ali says unlike Maroons whose players are in camp at all times, they struggle to have their team train together.

"We will not entertain player absenteeism and them turning up only a few days to the game or on match day. We will this time keep them in the training camp for the entire week if we are to get that much desired win against Paidha Black Angels," he emphasized

Meanwhile Maroons Coach Asaph Mwebaze hailed his boys for picking up yet another win in the FUFA Big League.

"The players controlled the game well and hope we maintain that momentum in our next two home games so that we can be solidly on top of the league," he said

After Maroons squandering numerous scoring opportunities, Patrick Kaddu opened the score for the visitors in the 30th minute and at the stroke of half time (45th minute) added a second for Maroons from a well-timed header.

Ronald Kikonyogo then found a third goal for Maroons in the 51st minute. Moroto United were to get their consolation goal in the 82nd minute through Rawlings Ariko who converted from the spot.