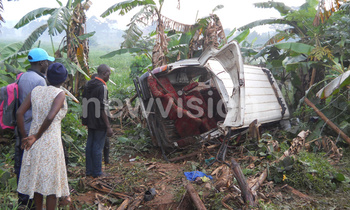 An unidentified expectant woman died on the spot and seven other passengers were left with serious injuries in an early morning accident that occurred in Mukono on Friday.

The accident occurred near Kigunga trading center along Kampala-Jinja highway in Mukono Municipality.

It involved two vehicles, a taxi (UAW 298A) and a bus (UAV 702C) belonging to YY bus company.

The scene of the accident is one of the black-spots along Kampala-Jinja highway.

An eye witnesses, Docus Magambo told New Vision that she saw the taxi flying into a roadside ditch before the unidentified driver jumped out and ran away.

Magambo said the driver of the taxi was over-speeding and tried to overtake the speeding bus before losing control.

The officer in charge of traffic at Seeta Police Station, Juma Maggwa attributed the accident to over speeding and reckless driving.

Maggwa said the injured were taken to the Church of Uganda Hospital in Mukono town for treatment. Since the year started, hundreds of people have died in accidents in Uganda.