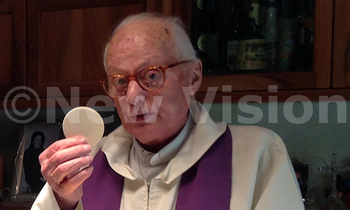 Foster children of the deceased clerical philanthropist, Fr. John Scalabrini have agreed with the Catholic Church leaders to bury him (Fr. Scalabrini) outside Bbiina Catholic Church. The burial will take place tomorrow. This has been confirmed by the Bbiina parish priest and confidant of Scalabrini, the Rev. Fr. Isidore Mbaleeba.
"Yes, we have held fruitful discussions with the foster children of our deceased brother in God, Fr. John. We have agreed that he be buried outside the Church, not inside."
"We all acknowledge that Fr. John was for all the people, not only us the Catholics. If we buried him inside the Church, we would somehow make his tomb inaccessible for many of his friends, who are not Catholics. So, we agreed to bury him outside the Church, where all his friends, Catholics and non-Catholics, will be coming freely to remember him and also to pray for him."
This latest development follows complaints yesterday by some of Fr. John Scalabrini's foster children that the Church authorities were deliberately ignoring the written will of their foster father to be buried inside St. James Catholic Church, Bbiina.
Susan Agalo, one of the children said: "Our benefactor Fr. John made a written will requesting to be buried inside Bbiina Catholic Church. The will is there and somebody is keeping it. But now we hear that they are planning to dig a grave for him outside the Church. This is not what Fr. John put in his will. We are appalled that the authorities in Church want to go against his word," Agalo said.
"When we approached Fr. Isidore Mbaleeba, the parish-priest over the issue, he gave us different reasons at different moments. The first reason he gave was that only bishops had the privilege to be buried in Church according to the traditions of the Catholic Church. On another occasion, he told us that it was the Archbishop to decide."
"It is our prayer that the authorities in Church assimilate the will of the father.Fr. John has made tremendous sacrifices for the Church and the country. I think our Church leaders should acknowledge these sacrifices and honour his will. I don't think this will cost them anything."
The agreement between the Church authorities and the foster children of Scalabrini has been received warmly by many Christians.
Tom Mukasa, a parishioner of Bbiina said: "This is good news. We were previously worried that there would be tension during the burial. You know Fr. John was a man of peace. It is therefore right and just that we bury him in peace and joy."