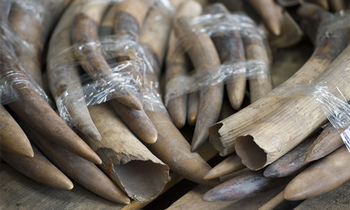 The global conference that governs wildlife trade voted Monday against proposals by Namibia and Zimbabwe to be allowed to sell their ivory internationally, in a move welcomed by many conservationists.
Namibia and Zimbabwe which boast healthy elephant populations had lobbied for the right to sell off stockpiles accrued from natural deaths to fund projects in communities that live close to elephants.
"(The meeting) votes in committee against proposals of Namibia and Zimbabwe to allow international commercial trade in their elephants," the Convention on International Trade in Endangered Species (CITES) said in statement at its conference in Johannesburg.
International trade in ivory has been banned since 1989, but legal domestic markets have continued in some countries around the world, and CITES has twice allowed sales of African ivory stockpiles to Japan and China, in 1999 and 2008.
In the two secret ballots, the proposals by Namibia and Zimbabwe were heavily defeated.
"African elephants are in steep decline across much of the continent due to poaching for their ivory, and opening up any legal trade in ivory would complicate efforts to conserve them," said Ginette Hemley, head of the WWF delegation at CITES.
"It could offer criminal syndicates new avenues to launder poached ivory, undermining law enforcement, and would undercut efforts to reduce the consumer demand that is driving the mass poaching."
She welcomed the votes, and urged nations to concentrate on closing domestic ivory markets and combating the illegal international trade.