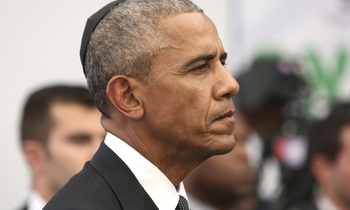 US President Barack Obama said Shimon Peres reminded him of "giants of the 20th century" like Nelson Mandela in his eulogy for the Nobel Peace Prize winner in Jerusalem on Friday.

"In many ways, he reminded me of some other giants of the 20th century that I've had the honour to meet," Obama said at the funeral for the former Israeli president and prime minister attended by world leaders. He named Nelson Mandela and Britain's Queen Elizabeth.



Key quotes from Peres funeral

US presidents present and past joined Israeli leaders and Shimon Peres's children in delivering the eulogies at the Nobel Peace laureate's funeral in Jerusalem on Friday.

Here are some of the key quotes:

US President Barack Obama:

"He reminded me of some other giants of the 20th century that I had the honour to meet: Men like Nelson Mandela, women like Her Majesty Queen Elizabeth, leaders who have seen so much, whose lives span such momentous epics, that they find no need to posture for traffic in what is popular in the moment."

"It is that faith, that optimism, that belief even when all the evidence was to the contrary, that tomorrow can be better, that makes us not just honour Shimon Peres but love him."
"Shimon accomplished enough things in his life for 1,000 men but he understood that it is better to live until the very end of his time on earth with a longing not for the past, but for the dreams that have not yet come true -- an Israel, secure in a just and lasting peace with its neighbours."

On Palestinian president Mahmud Abbas, who was seated in front row at the funeral, the US president said his "presence here is a gesture and a reminder of the unfinished business of peace."

Former US President Bill Clinton:

"He started off life as Israel's brightest student, became its best teacher, and ended up its biggest dreamer"

"His critics often claimed he was a naive, overly optimistic dreamer. They were only wrong about the naive part. He knew exactly what he was doing by being overly optimistic."

Israeli Prime Minister Benjamin Netanyahu

"Shimon lived a life of purpose."

"He soared to incredible heights. He was a great man of Israel; he was a great man of the world. Israel grieves for him, the world grieves for him, but we find hope in his legacy, as does the world."

Israeli President Reuven Rivlin

"Your death is a great personal and national loss, as it is also the end of an era, the end of the era of giants whose life stories are the stories of the Zionist movement and the State of Israel."

"This is our profound feeling today. A feeling of the end of an era in the nation's life, the end of a chapter in our lives."

Tzvika Walden, daughter

"My father, you were a lover of life, who sprung like a lion at daybreak to fulfil his mission. For so long, I tried to catch up with you. But now, heed my loving words, you have earned a well-deserved rest."


Chemi Peres, son

"You always preferred the possibilities offered by the imagination to clinging to memories of the past. The legacy you leave to us is the world of tomorrow."

"Farewell my teacher and mentor. Farewell beloved father and grandfather. We will travel the path of light you left us."

Yoni Peres, son

"When asked what he would like to have inscribed on his tombstone after death, he said, without hesitation, 'He was too young to die'."

RELATED


Abbas, Netanyahu shake hands at Peres funeral

World leaders bid farewell to 20th-century 'giant' Peres