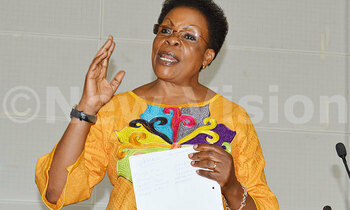 PIC: Beti Kamya, the minister for Kampala

Not long after issuing guidelines to regulate noise pollution in Kololo, KCCA says it is moving to clamp down on traders, especially shop owners downtown that are using loud speakers and music to hook customers.

Beti Kamya, the minister for Kampala, said the action has been prompted by numerous requests to rein in on the traders in a bid to bring sanity in the city.

"We have received numerous petitions and will soon take appropriate action," she said, addressing a press conference on the status of Kampala Capital City this morning at Uganda Media Centre.

She said KCCA had also received numerous petitions about double taxation, garbage management, insecurity and they were working on the concerns.

KCCA allows only 75 decibels, day, and 50 decibels at night in commercial areas.
However, the minister says the noises levels way above the required levels.

KCCA has come under spotlight over the last few years for handling noise polluters in the city with kid gloves, resulting in frustration from Kampala dwellers.

In a 2013 court case, Justice Benjamin Kabiito ordered KCCA to enforce NEMA Act on noise pollution after Ahmad Mahera, a resident on Plot 3 Kyadondo Road, sued Emin Pasha Hotel and KCCA for failure to regulate noise in her neighbourhood.

In the landmark judgment, Kabiito also awarded Mahera sh20m in damages for disturbing her peace with noise coming from the Hotel.