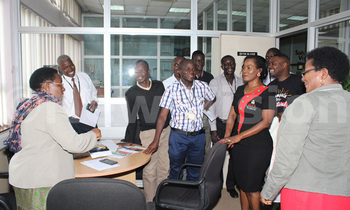 PIC: Kampala Capital City Authority executive director Jennifer Musisi Semakula at New Vision's at Vision Group offices in Kampala on September 29, 2016. Photos by Tony Rujuta.

"We are vendors," one Billy Rwothungeyo cracked a joke when she was still asking her attentive audience to attend. She couldn't suppress a chuckle before she continued. "Hahah…. Even vendors are welcome," she briskly replied amid giggles.

Jennifer Musisi, the Executive director of Kampala City Council Authority, on Thursday afternoon paid a courtesy visit to the Vision Group head offices to invite members to attend the forthcoming Kampala City Festival due this Sunday.

She visited all the departments of the Vision Group, from Radio department (Bukedde FM and XFM) where she went on-air to call masses for the event, to the newspaper departments; Bukedde and lastly the New Vision.

She engaged in chitchats with flocks at various spots during her visit. Flocks, especially men, gawked on. Why? Yes, you guessed right.

"Our theme colours this time round are black, yellow, and red. There are national colours and remember in the independence mood. Please remember to dress that way," she asked.

She concluded her visit to the CEO, Robert Kabushega's office.

One of the biggest East African Entertainment events, this year's festival is expected to attract over 2 million revelers. It always comes with a lot of festivities; include music, acrobatics, art, food and colour.