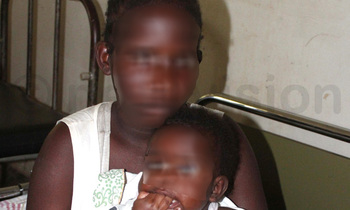 She was referred from Omatenga Health Centre III to Ongino-Kumi hospital while in labour pain to deliver her first born but she couldn't push and doctors recommended she undergo a C-section for them to save her life and that of the baby.
The procedure was successful however Esther, 15, had to undergo a second and third operation because her abdomen had been raptured.
That can occur to women with prolonged labour according to medics.
"If she was an elderly woman we would have removed the uterus but since she is young we worked hard to ensure that we save her uterus" said Dr George Olupot who operated her.
Esther has already healed and her five month old baby now is also healthy but both the baby and the mother have not left the hospital bed!
Esther is being 'detained' because she has not cleared the hospital bill that now stands at sh1,451,300.
The hospital bed where she was treated until she healed has become her home and other expectant mothers and those that have delivered have virtually become her relatives and friends.
It because Esther has been abandoned by her family over the hospital bill they are unable to clear yet the hospital insists that for her to leave the facility the bill has to be cleared.
Who is Esther?
She is the last born in the family of four in Agule village, Omatenga parish, Kumi district. She says her mother died when she was young living them with their father Stephen.
She claims the father is a heavy drinker and her elder sisters got married while she was taken to Kumi town where she worked as a house maid.
"I have not gotten the opportunity to go to any school. My father hardly stays home because his work is drinking. He has sold all the dowry of my sisters for drinking," Esther said.
In Kumi town where she has spent much for her time Esther met Okello a water vendor last year.
She became pregnant by him but unfortunately Okello's life was cut short by a motor accident when she was seven months pregnant.
"He was knocked by a speeding vehicle at Odelo Market when he was wheeling jerrycans of water to town. Since he had not introduced me to his parents I was not introduced as his wife on burial day," Esther explained.
She returned to her rented room but she could not continue paying rent so she went to her only brother who is equally poor in the village.
"I hoped that Okello would marry me one day yet God had a different plan for him," Esther said as she breaks down in tears. The ward goes silent and visitors who come to check on their patients break down as well as they listen to her ordeal
Her sisters who could come to her rescue are equally in abject poverty while the relatives of her father fear to meet the bills since they also have their families to care for.
"If a Good Samaritan turns up to clear my bills I will be very grateful because life in the hospital is not good," Esther said.
She was admitted to the hospital on 15th May, and discharged on the 21st June and that marked the end accumulation of costs.
Esther has named her child after Esther Angolekin a nurse who is closely helping her.
"I intend to visit her village and talk to her relatives about the fate of this girl and her child however I want the baby to get the last polio vaccine before going to her village," Angolekin said.