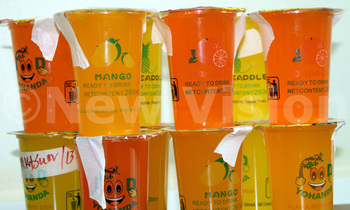 PIC: Yohanda juice by Yohand company limited Kyebando, Kampala.

The Uganda National Bureau of Standards (UNBS) warns the general public about substandard juice which is circulating on the market under brand 'Yohanda'.

The juice is a flavored non-carbonated soft drink manufactured by East African Yohanda Company limited located in Kyebando, a Kampala suburb.

The juice does not meet UNBS standard, US 47:2011 and is not suitable for human consumption.

"The juice is packed in 260ml plastic cups and it includes mango, orange and pineapple flavors. The juice has been observed to change color while in storage and on shelves even before the elapse of the declared expiry date. The label of the juice also includes the UNBS Quality Mark ("Q" Mark) which was applied irregularly and without permission contrary to the UNBS Act clause 26," said Engineer Jackson Mubangizi, the UNBS Surveillance Manager.

Mubangizi noted that the safety of the product therefore cannot guarantee as its consumption may result into associated health complications.

So far, UNBS has suspended all Yohanda juices on the market.

"We conducted an operation in Hoima, Fort-Portal and Kasese towns where consignments of the juice were reported and over 1089 cartons of juice were seized. The operations are on-going in other areas. We also directed East African Yohanda Company Limited to effect product recall from the market," said Barbara Kamusiime, The UNBS public relation officer.

Kamusiime calls upon consumers to be on alert and report to UNBS anyone one found to be dealing in Yohanda brand of juice.