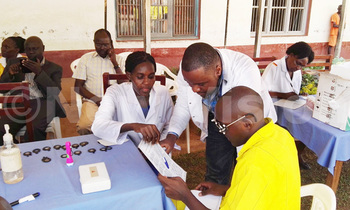 Eight inmates expected to undergo surgery having been diagnosed with severe eye problems, Joshua Oluka the clinical Officer Murchison Bay Inmate's Referral hospital has said.

"We have so far identified eight inmates with severe eye problems that require cornea transplant and cataracts surgery of which patients will be referred to Mulago hospital since Prison's Medical Services is not capable of handling surgical interventions," Oluka observed.

This comes after Lions Clubs international District 411B sponsored by Lions Clubs of Kampala and Entebbe in partnership with Mzizima Lions of Tanzania held an eye camp at Luzira Prison Barracks where over hundred inmates were detected with eye problems.

"Inmates with ophthalmic challenges were provided with lens and those with minor cases were given eye drops. But those who need surgical intervention will be referred to Mulago hospital for further management," according to Oluka.

Eric Mugwanya who is serving a death sentence over murder and one of the beneficiaries says he was yearning to leave prison a learned man but was forced to drop out of the prison education programme due to poor sight.

"Due to poor sight, my dreams were shattered because I was not able to sit for my final examinations last year yet could not afford lens. Acquired free lens will enable me to fulfill my dreams," according to Mugwanya.

Venie Tinkumanya, the District Governor observed: "They decided to initiate an eye camp within Luzira prison to ensure that they assist the vulnerable communities of which include people in conflict with the law."

"Correcting one's eye sight is quite costly especially when it comes to acquiring lens. Therefore, extending ophthalmic services to prisoners will help to ensure that these people re-gain their sight," according to Tinkumanya.