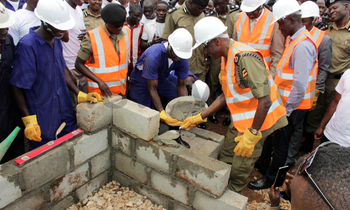 State Minister of Internal Affairs Mario Obiga Kania on Tuesday launched the commencement of construction for 1,000 housing units for junior police officers at Naguru, Nakawa division in Kampala.
The launch marks the beginning of the Police Week, culminating in Police Day on October 3rd.
While speaking at the launch of the construction of the houses at Police headquarters in Naguru, the Inspector General of Police Gen. Kale Kayihura, requested the Ministry of Internal Affairs to revise the housing policy of Police officers to include cadets and Assistant Superintendents of Police on the list.
He said the cadets' monthly wages are too little for both welfare and renting.
He explained that the current policy only allows the Police to provide housing units for officers below the level of Assistant Inspector of Police.
He said they just launched only 1,000 units yet in the whole of Kampala needs about 10,000 units.
Kania said the Ministry is not only set to solve the housing problem, but also the welfare of the Police wives and education of their children.