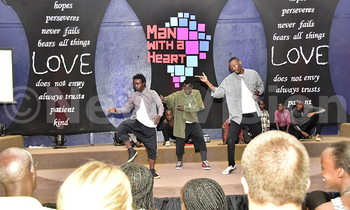 If there is anything that young people know how to do is mix pleasure with serious business. Friday was no different, over 50 dancers from six dance crews in Kampala took to the stage at Deliverance church on Makerere Hill road to raise money for the construction of the church's main auditorium.
In an over two hour dance production, revellers were treated to salsa, modern dance, ballet, African contemporary dance, samba, and hiphop.There was a touch of poetry added, intensifying the theme of Love that was the highlight of the show.
The stage was petite but cute with a dark cloth backdrop of love. And not to be missed was the stage lights and smoke that added glamour to the production. So did the crew outfits which were hip and urban. Also donned were ballet and African attires plus shoes which came in all colours.
High praise dance team were the hosts and highlight of the production, but equally excellent on the night were clay Dance Company, symphony dance crew, agape dancers, Anointed Dance Group, worship harvest dance crew and Life changers dance group.
Revellers were smiling ear to ear, love was all around and the dance crews were cheered on by an excited crowd made of largely the youth and their guardians.
And on the night someone ate the most expensive little cupcake that was auctioned for about sh. 500,000.
But with parents like UNRA Executive Director Allen Kagina in attendance raising the minimum sh. 10 million for the construction of the main auditorium for the Deliverance Church on Makerere Hill road should be no problem for the young stars.
Sanyu Kisaka who was among those involved in the dance production says the outcome exceeded their expectation.
At close of show, most of the energetic young revelers were on their feet chanting "we want more" and rightfully so. The sh. 10000 spent was every cent worth it.
Even then, once constructed, the main church auditorium will ensure young people have a place to pray and engage in creative activity away from delinquent behaviour.