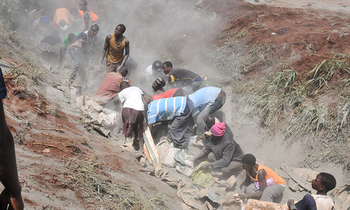 An early morning Semi truck accident near Steel rolling Mills junction along the Iganga-Jinja highway, on Sunday, left one dead and two other people escaping death by a whisker.
The accident involved a Semi truck registration number UAQ 026L/ UAF 967U carrying cement from Tororo Cement factory which hit Steven Nsango a.k.a Mata g'abaana, who was carrying two passengers on his motorcycle registration number UDR 353T heading to Jinja town.
According to Ahamada Waiswa one of the survivors who was on the motorcycle which Nsango was riding narrated that he stopped Nsango at Wanyama road along the Iganga-Jinja highway to take him to town.
Waiswa said he was joined by a lady Margaret Tusiime who was also heading to town to work but as they were approaching a road that branches off to Steel Rolling Mills, a Fuso truck carrying baggase (crushed Sugarcane husks) made a left turn without applying indicator lights.
He said a fuel tanker that was behind it suddenly stopped to avoid hitting the FUSO truck causing distraction to a trailer carrying cement. The driver of a trailer carrying cement swerved off the highway also avoiding to hit the fuel tanker and instead knocked Nsango who was riding a motorcycle with two passengers.
Waiswa said they fell into a trench after being knocked and hurriedly jumped out of it before bags of cement could fall on them and added that Nsango remained on his motorcycle and the trailer crushed him plus his motorcycle that was beyond recognition. Bags of cement fell onto Nsango and covered him.
However drama ensured as residents stole the cement, some exchanged blows as they forcefully pushed themselves to get the bags of cement.
Traffic along the Jinja-Uganga highway was affected as boda boda operators and drivers and passengers left their motorcycles and vehicles respectively to grab bags of cement and loaded them onto their motorcycles and into their vehicles.
Police tried to chase away residents but in vain, they looked on as residents stole the 600 bags of cement that were loaded onto the trailer destined for Jinja.
Osbat Tumuhamye, a traffic officer from the Kiira Region headquarters, who was managing traffic at the scene of accident, said the cause of the accident was not yet known and Police will investigate its cause.
The Jinja district Police Commander Felix Mugizi also arrived at the scene and confirmed death of the motorcycle rider and the two injured people who were taken to hospital.
Mugizi said Police was yet to carry out a search to recover the stolen cement and further cause arrest.
Mugizi arrested un-identified man who had packed stolen cement in his vehicle.
Nsango's body was put on a Police patrol pick up and taken to the Jinja mortuary.
Two breakdown vehicles were brought that pulled the trailer out of the trench and later towed it to Jinja Police Station.
WHAT RESIDENTS SAY:
Sedrick Mutegoba: The driver of the trailer full of cement was trying to avoid knocking another fuel tanker but instead knocked then boda rider to death and also crushed his motorcycle.
Zubairi Sulani: It was a serious accident and I feel sorry to the family of the boda rider who has lost his life in the accident.
Ahamada Waiswa: I am one of the survivors in the accident, I boarded the boda rider at Wanyama to take me to Jinja town to start a day's work but unfortunately a trailer carrying cement knocked us. We fell in a trench but I manage to run out of it.
Ivan Ssekandi: I commend Police which came and removed the body of the boda rider plus guiding vehicles at the high way.
Ben Wambi: I brought a passenger at Steel Rolling Mills but as soon as we arrived, then he accident occurred. I saw it happening with my eyes but instead of residents helping victims, they resorted to stealing bags of cement.
Ali Kiranda: I urge boda riders and drivers of various types of vehicles to always indicate when they are branching off highways in order to avoid accidents.
Margaret Tusiime: I am one of the survivors in the accident but I lost money in the process of rescuing me from the trench where I had got stuck.