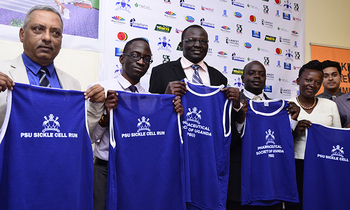 The pharmaceutical society of Uganda (PSU) in partnership with the sickle cell association of Uganda (SAU) has organized the 2nd sickle cell run. This event will be held this Sunday September 25 at the kati kati grounds lugogo with Stephen Kiprotich being the chief runner this event will also doubles as the world's Pharmacist day under the theme "Pharmacists-caring for you".
The pharmaceutical society together with the sickle cell association have today called upon the government of Uganda to scale up efforts towards improving the quality of life of the persons with sickle cell disease through massive screening of the these persons including the newborns, introducing Hydroxyurea as an essential drug for the children and adults in the various health facilities because it's one of the most strong sickle cell drug and without it one will spend 10million shillings to manage a patient majorly due to blood transfusion, hospitalization and prophylactic medication costs..
"we encourage the public mostly the parents to take their children for sickle cell screening from the age of one year because by this time tests can be able to show ones results, that's why I request the entire public to join us in this fight and at the same time build a sickle cell hospital through the run" says Samuel Opio the secretary pharmaceutical society of Uganda during a press release at Pharmacy Houses in Banda.
He further stated that the money that the proceeds from the fundraising event will go towards the construction of the PSU-SAU sickle cell treatment hospital in Namalere and it will be the first ever sickle cell hospital in East and central Africa and a total of two billion is expected to be put in this hospital to better their wellbeing.
"we believe if we finish constructing this hospital, am so sure that sickle cell will be reduced with in our country because we have specialized doctors in our country and they can be of great use all we need is this hospital and we shall kick sickle cell out of Uganda cause it's amongst the top killers diseases in Uganda," says Ruth Nankanja Mukibi the founder sickle cell Uganda.