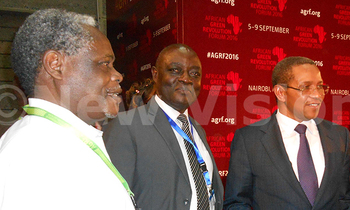 Government is to use the enterprise selection strategy to transform the agriculture sector from a small holding to commercial and viable business .This is one of the 13 points of the agriculture transformation agenda that was introduce to cabinet retreat by the president during a cabinet meeting recently.
This was revealed by the minister of Agriculture animal Industry and Fisheries, during a ministerial meeting on Agriculture transformation alongside the Africa Green Revolution forum meeting in Nairobi,organised by the Alliance for a Green Revolution in Africa (AGRA).
Through enterprise selection, farmers will be assisted to choose enterprises that suit the available piece of land with the help of officials from the ministry.
"Commercial farming doesn't necessarily mean having a big size of land. It means using what you have profitably and choosing the right enterprise and this is what we are encouraging our farmers to do," said Ssempija.
This has already been realized in Vietnam where farm enterprises like fishing, piggery, bee farming, vegetable growing among others have been embraced by farmers with small pieces of land and many are now exporting, added Ssempija.
He however added that this will be achieved through a mindset change of the farming community which is being addressed through the increase of extension staff, who will look for farmers to offer the expertise depending on the venture they are engaged in
According to him 50% of extension staff needed have already been recruited and in two years' time they will have achieved the 100% target.
"So we have agreed as number one among the 13 points of government and this is aimed at changing the status of the small holder who is doing farming at a subsistence level," Ssempija told the gathering.
The strategy which must be backed by financing is being aligned to the New Agriculture Transformation Plan which has a component of mobilizing finance from within government and development partners.
"This will ensure that farmers get access to credit, quality inputs, storage facilities, tools for value addition which are some of the challenges facing small holder farmers,".
The plan will soon be launched by the president himself, since this is his brainchild, aimed at transforming the sector, which will lead the country into a middle income status.
To address the challenge of access to quality tools, government is in the process of getting an assembling a plant of tractors and one that will make spare parts for farmers to get the tools within the country at a reduced cost.
However at the same meeting, President Paul Kagame of Rwanda said certain actions should be enforced for government plans of transforming the sector to succeed.
He gave an example of signing contracts between implementers of the projects and the citizens for accountability purposes and this has worked in Rwanda.
"When we identify resources we make priorities, implementers are made known to all players, then we sign contracts with them as leaders in in the view of citizens," explained President Kagame.
He added that they later get back to citizens to explain progress made through a quarterly evaluation which is accompanied with the National dialogue with all stake holders.
"From here we can tell whether the program is working or not and if not we then find ways of solving it including penalties if it was just mismanaged," he explained.
In addition, former president of Tanzania, Jakaya Kikwete said while president he took a deliberate action of transforming agriculture by starting the Kilimo Kwanza (food fast) approach which saw many small holder farmers supported to be productive through mechanization, assured markets and financial support.
Such examples can be emulated from our leaders in the region and help others grow the sector, added Dr.Agnes Kalibata, from AGRA.