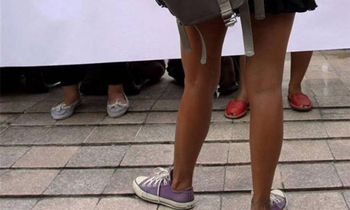 A Turkish court has remanded in custody a man who kicked a young woman in the face because she was wearing shorts, after his initial release sparked a furore among activists, reports said Tuesday.
In a case which galvanised public opinion, Abdullah Cakiroglu was first detained but then freed at the weekend despite confessing to kicking nurse Aysegul Terzi in the face on a public bus on September 12.
After protests, an Istanbul court on Monday placed Cakiroglu, 35, under arrest ahead of trial on charges of "inciting hatred and hostility" and "preventing a person's right to exercise their freedom of belief, thought and opinion".
Terzi, 23, said that during the attack, Cakiroglu told her "because she was wearing shorts, she had no right to live" as she showed the bruises on her chin.
"I am often crying, I often find myself angry, I am often feeling like someone is about to attack me," she told Show TV channel on Friday.
Cakiroglu was quoted by Dogan news agency as saying "Aysegul's clothing was not normal" and that her style of dress "provoked" him on what was the first day of the Muslim religious holiday of Eid al-Adha.
However, the security guard admitted in a statement what he did "was not right" and told police at the weekend he was suffering from a mental illness, having previously been diagnosed with bipolar disorder, the agency reported.
Turkish Family and Social Minister Fatma Betul Sayan Kaya -- who wears the Islamic headscarf -- said she was saddened by the incident "as a human, as a woman and as a minister".
In an interview with Hurriyet daily, Kaya said the attack brought back memories of her own problems as a head-covering woman while a student.
The ruling Justice and Development Party (AKP) of President Recep Tayyip Erdogan has championed the removal of restrictions on women wearing the Muslim headscarf in the officially secular country.
Turkey lifted a long-standing ban on the wearing of the hijab in state institutions from 2013.
Critics have accused the AKP of presiding over the creeping Islamisation of Turkey and violating private rights but the party denies this.
A demonstration was held on Sunday in Istanbul with women holding banners saying they would "not stay silent", according to pictures posted by the campaigning organisation, We Will Stop Femicide.
Women also shared photographs of themselves wearing shorts on Twitter with the hashtag #AysegulTerzininSesiOlalim, meaning "Let's be Aysegul Terzi's voice".