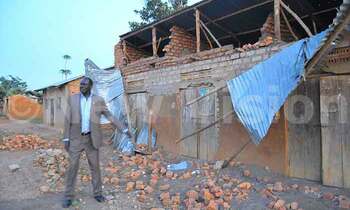 President Museveni has asked Disaster Preparedness Minister Hillary Onek to assess the impact of last weekend's earthquake that shook the bigger parts of Uganda and left hundreds of families in Rakai District with cracked houses.

Eng Onek yesterday travelled to Mutukula, at the Uganda-Tanzania border post before visiting families that have since had their houses destroyed especially in Kakuto Sub-county


At Kyakatumwa trading centre in Kakuto, Eng Onek told the residents his team was on the ground to ascertain the losses suffered before government could immediately compensate them."We experienced the earthquake even up to Kampala on the weekend. We have toured Rakai and so many families have been left homeless after their houses were totally destroyed," he said

"I'm here to tell the people that government will do everything possible to restore these people's livelihoods. I will leave my team on the ground to do more assessment. We have in the meantime brought some blankets for the people staying at the church," he added.

The areas mostly affected by the Saturday 5.7 magnitude earthquake included Kyeebe, Kakuto Kifamba, Kibanda and Kasensero which are all close to the border point.

"We thank God no one was killed on the Ugandan side. One woman was badly injured by the falling bricks but she is out of danger," the minister said.

Sharon, the woman who was injured told New Vision that she was having an afternoon nap when she was was hit by the falling debris.

"I was lucky my children were outside. But we have nowhere to sleep now. We are taking shelter at the nearby church," Sharon said.