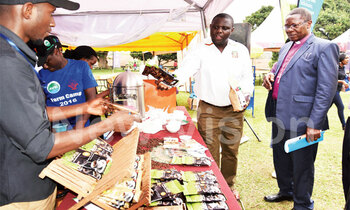 Uganda needs to empower the youth to fully participate in the coffee value chain to increase productivity and meet the 20 million bag target by 2020, a stakeholder has said.

Joseph Nkandu, the National Union of Coffee Agribusinesses and Farm Enterprises (Nucafe) executive director, said while the Government seeks to boost coffee exports from three million to 20 million bags annually by 2020, this will not be possible without empowering the youth to tap into the coffee sub-sector.

Boosting production

"We need to exploit the energies and innovativeness of the youth to boost coffee production to the 20 million bag target by 2020. Producing 20 million bags of coffee means that you have created over 10 million jobs for other unemployed youth," Nkandu said on the sidelines of the Gayaza High School farm camp recently.

There is a new coffee Bill in offing that seeks to preserve the quality and boost coffee production from three million bags, where it has stagnated for about 20 years.

Currently, coffee buying and selling is governed under the Coffee Regulation 1994 and Coffee Development Authority (CDA) statute 1991.

Uganda exported 3.56 million bags of coffee, worth sh1.17 trillion ($352m) in the 2015/16 financial year running from July 2015 to June 2016, according to data from CDA, down from 3.44million bags the previous year, estimated at sh1.36 trillion ($409m).

Changing attitudes

Nkandu added that there is also need to change the negative attitude the youth have towards agriculture and encourage them to pursue it as a profession.

The farm camp was organised by Gayaza High School in partnership with Nucafe, Food and Agricultural Organisation and AVSI, a non-governmental organisation, to skill students from 35 schools across the country in how to run sustainable agribusiness enterprises.

Organised under the theme: "Skilling the youth for agribusiness and selfreliance", the camp sought to change the mindset of the youth in schools about agriculture through exposure to agribusiness and training them in scientific approaches to agribusiness.

Unemployment

Uganda is grappling with a high unemployment rate, estimated at about 64%, according to the World Bank. It is estimated that over 400,000 youth enter the job market annually but only about 9,000 are absorbed by the job market.

The deputy head of mission, Embassy of Netherlands, Hans Peter Der Wounde, attributed the high unemployment rates in the country to the skills mismatch, which leaves most youth unemployable.

"Uganda's biggest problem is failure to produce graduates with the skills that connect with what the job market needs. There is, therefore, need to equip the youth with skills to enable them invest in agriculture as a business," Wounde said.

"The youth need to start seeing agriculture as a profession and as the future of the country. See agriculture as the best option for your career and sustainability," he added.

AVSI country representative, John Makoha, said Uganda needs to boost employable skills among the youth, adding that it's only through empowering the youth that the country will be able to post recommendable growth.

"Young people shun agriculture because they think it is not profitable, but we have to change this mindset," Makoha said.

The camp was attended by over 800 students and teachers from 35 schools countrywide.

FACTBOX (sourced online)


Coffee is the world's second most valuable traded commodity.
Coffee is most effective if consumed between 9:30am and 11:30am.
Coffee does not taste like it smells because saliva wipes out half of the flavour.
Drinking a cup of caffeinated coffee significantly improves blood flow.
The Netherlands is the world's largest per capita consumer of coffee.
Without its smell, coffee would have only a sour or bitter taste.
Americans spend an average of $1,092 on coffee each year.
Drinking caffeine in the evening delays our brain's release of melatonin (a hormone which helps control sleep)