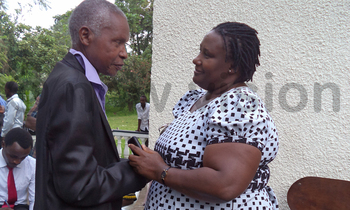 By Geoffrey Mutegeki
The Forum for Democratic Change (FDC) party is mourning the death of former party district chairperson Johnson Musana who passed away on Monday afternoon.
Musana, 59, passed away at Nsambya Hospital where he was admitted with diabetes.
According to John Safari, a brother to the deceased, Musana died of kidney failure.
"We have lost a very important man in our family; he would help everyone regardless of where he or she was from. He has left a big gap which will never be filled," Safari said.
He noted that his brother right from childhood loved debating, a reason he became a lawyer.
"He loved arguing; he loved debating and would always offer positive solutions. He loved his party and the people of Uganda," Safari said.
Musana is one of the founding members of Reform Agenda, which later was transformed into FDC.
He served as the Kabarole FDC chairman from 2001 to 2015 when he relinquished his seat.
Nyakato Rusoke, the Kabarole FDC chairperson described the deceased as a humble and caring man who loved his country wholeheartedly.
"We have lost a strong pillar, a great friend, a good listener and soft spoken gentleman. Toro has indeed lost a great son. He fought to see a Uganda for all of us," Rusoke said.
Musana has also been a member of the FDC's National Executive Committee and has been on the National Legal Committee of the party.
Before joining the opposition, Musana supported the National Resistance Army in 1980 when he joined the bush war against the Obote regime.
Robert Mutuzi, an FDC member eulogized Musana as a true patriot who loved to see Ugandans liberated from dictatorship.
"He went to the bush to fight for Ugandans and he died fighting. He is a true hero, as FDC we shall miss him," Mutuzi said.
Musana was born on August 21, 1957 in Bukuku, Kabarole district.
He attended Canon Apollo Demonstration School for Primary and Bukumi Sen Secondary School for his O'Level.
He later went to Ntare School in Mbarara where he sat his A'level.
In 1979 he joined Makerere University but did not finish the course and joined the bush war in 1980.
He married his wife Kevina Musana in 1984, with whom he fathered six children; four boys and two girls.
After the war, he went back to Makerere University where he got a diploma in law.
He started practicing law at Nyakabwa Advocates but later established his own chambers, Musana Advocates.
Musana will be buried tomorrow at Kigwengwe, village Karambi Sub County, Kabarole district.
and I don't see any reason why anyone targeted me" he observed.
Nakibinge also called upon cultural leaders to join religious leaders and the government in the fight against sports betting among youth in the country.
"Sports betting is not a source of income. Nobody will ever become rich because of betting. I call upon the cultural leaders to tell their subjects to work. It is alarming that even in the remote rural areas, the youth are also engaging in betting" he said.
He noted that people in developed countries participate in betting as a form of leisure but not to earn a living from it.
First deputy Supreme Mufti Sheikh Muhamood Kibaate urged government to monitor what schools teach pupils.
He urged Muslims to educate their children in order to improve on the status of the Islamic religion in the country.
Dr. Abdulhakim Walusimbi, a don at Islamic University in Uganda delivering the Eid sermon at Kibuli urged the Muslims to stop using the Islamic religion to achieve their selfish interests.