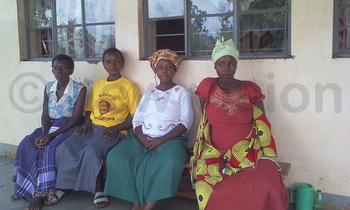 Kasese is grappling with a high numbers of women dying while giving birth according to statistics from the district health office.
Several women in areas of Maliba, Karusandara, Kyalhumba, Mahango, Muhokya and Kyondo Sub Counties cannot access health services when pregnant and because of this, they have turned to traditional birth attendants (TBAs).
In Karusandara Sub County, one of the most densely populated areas in the district the area is served by one health centre III which is usually closed due to lack of staff.
Women are forced to trek several kilometres to access health services at Kilembe Hospital while those who cannot afford seek the services of traditional birth attendants.
Recently, Kasese district council passed a motion seeking to ban the TBAs from helping women to deliver but several women protested the move by the council saying that some areas don't have health facilities to handle them.
In Nyakatonzi Sub County the only health centre which was commissioned in 2012 has never been operationalized due to lack of staff and medical supplies.
"Ever since the health centre was commissioned there is no staff, no medical supplies. Women and children suffer a lot to access medical services. As local leaders we have tried to bring it out to the concerned parties but nothing has been done," said Swizin Bukenya the LC III chairman for Nyakatonzi.
In Karambi sub county, pregnant women have to share the same maternity ward with other patients because of lack of space at the only health centre in the area.
An annual health sector performance report for Kasese district shows that the risk of mothers dying in the health facilities while giving birth has increased for the last four years.
According to health indicators in the district health report for the financial year 2014/15, 213 children out of 100000 live births died compared to 132 children out of 100000 live births in 2010/11.
This translates into a 38.2% increase in the mortality rate for the last four years.
Julius Mutooro the acting Kasese district bio statistician while releasing the report to district health stakeholders recently at Kasese Multipurpose Hall attributed the increase in mortality rates to expectant mothers who he said have remained adamant to impressing maternal health care delivery systems.
Mutooro said that though there is an improvement in the maternal health care systems of Kasese district, maternal deaths have remained a challenge because mothers still delay in villages with traditional birth attendants whereas others report to health facilities late during the time of delivery due to lack of transport.
"Very many women are dying at the hands of traditional birth attendants who are not skilled in any way to help women deliver" says Mutooro.
The Kasese district secretary for social services Ruth Kabugho however blamed health workers for not being effective enough to arrest the situation.
"Some health workers are always absent from duty, while others are rude to the women and this forces them to shun the health centres and opt for the services of traditional birth attendants," says Kabugho.
Ruth says the way midwives handle expectant mother at health facilities was also responsible for the increasing cases of maternal deaths in the district.
The Kasese district health officer Dr. Yusufa Baseka said that the district has brought on board several stakeholders with the aim of combating the problem of women dying in labour.
He said that sensitization campaigns are going on in villages to ensure that women deliver from health facilities with the help of midwives.
"We have recruited midwives to help our women and we are also discouraging them from securing the services of traditional birth attendants because they are not skilled enough to help them deliver," said Baseka.
He said that the district with the help of development partners have procured motorcycle ambulances to help the women in areas where ambulances cannot reach.
"In some areas where motor vehicle ambulances cannot reach we have got motorcycle ambulances to help and deliver the expectant women to health facilities in time and prepare them for deliver," he said.