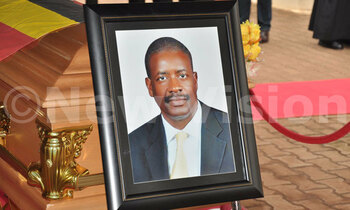 PICTURE: A portrait of late Gilbert Najuna Njuneki. Photos/ Godfrey Kimono

Hundreds of Ugandans today turned up for a requiem service for former diplomat Gilbert Najuna Njuneki, who died during a journey from to South Africa. The service was at All Saints Church, Nakasero.

Many people have spoken fondly of the fallen diplomat. To his colleagues at the Ministry of Foreign Affairs, Njuneki was a straightforward, open minded, hardworking and an officer of high integrity.

This was evident in the last four years he served as Ambassador Special Duties at the ministry, "Njuneki was a thorough diplomat who joined the ministry with vast experience but besides that, for those who know him personally, he also diligently served his country as a God-fearing and noble officer." Margaret Awino Kafeero the head of the Public Diplomacy Unit told New Vision in a phone interview on Wednesday.

The Minister for Foreign Affairs, Sam Kuteesa told New Vision early this week that Njuneki collapsed and died while returning to Uganda at Oliver Tambo international airport in South Africa.

The diplomat was out of the country on official duties in Stockholm, Sweden according to the Ministry website but earlier reports indicated he was at a Ugandan diaspora conference in Oslo, Norway.

Kuteesa also noted that at the time of his death, Njuneki was, "working hard to streamline the diplomatic commercial office at the ministry's headquarters."

Kafeero said Njuneki joined Foreign Affairs in July 2012 with the designation of Ambassador/Special Duties based at the Ministry Headquarter.

"His duties involved matters pertaining to the Presidential Investors Round Table - Presidential Initiative on Sustainable Tourism (PRIST), in charge of the Diaspora Community and Coordinated the Ugandan aspect of the Regional Northern Corridor Infrastructure Project but at the time of his death, he had also been deployed to spearhead the commercial diplomacy initiative," she said.


Career record
2012 joined Ministry of Foreign Affairs as Ambassador / Special duties

2001-2011 Managing Consultant at Corporate Support Ltd

1998 - 2000, Consultant for Ministry of Water, Land and Environment, developing the Financial Management Information System

1997-1998 Consultant with corporate Support in Systems Development; Research and Policy Development

1994-1995 Consultant for Ministry of finance, Planning and Economic Development (Supported by UNDP under the program of TOTKEN - Transfer of knowledge through expatriate nationals

1988 - 1991 Administrative coordinator at Christian Reformed World Relief Committee, East Africa - Managing Kenya and Uganda offices

1987 - 1988 an Administrator in CARE - International in the Uganda Office.