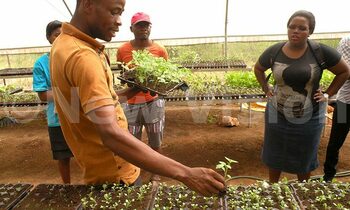 Gone are the days when people especially those in urban centers used to give the issue of having small land as the reason as to why they fail to practice farming to improve their living standards especially financially.

Godfrey Kato a farming specialist at the Kampala Capital City Authority (KCCA) demonstration farm at Kyanja Wakiso district explains that backyard farming is when one practices farming in sacks and buckets as a way of utilizing the small piece of land available.

Kato says, "With little efforts one can reap big from this type of farming as he or she can even do farming in all seasons and supply people around throughout the year."


He adds that one can grow close to 54 plants on one 100kgs suck depending on the type of crops one is planning to grow. Kato further said vegetables like tomatoes, sukuma wiki, cabbage, onions, spinach, Amaranth (dodo) are recommended for this kind of farming as they do not need a lot of space to grow.

He however says, it's better for a farmer to first plant his or her crops in a nursery bed where he or she can protect and monitor their growth before they are transplanted to the sack gardens.

Procedure for preparing a sack garden and how to farm in it

Kato explains that one needs a sack, gravel stones, organic manure and soil to make a proper garden.

Mix soil with available organic manure like green manure from cover crops or animal/birds manure like chicken waste.

Park it in sacks and transplant your crops to the sacks. Cover gravel stones on top of the soil in the sacks to reduce on the rate of water that evaporates from your soil and also to avoid weeds.

One can plant crops on top and in sides of the sack for more yields.


Water your plants twice a day in a dry season and harvest when the type of crop is ready.

Why grow plants in sacks or buckets

Crops are easy to irrigate.

There is no need to weed as a few unwanted plants grow in the garden.

Due to the gravel stones on top, water travels well to all crops including those on the sides of the sacks.