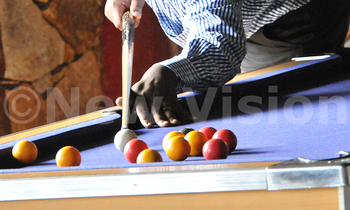 Home boy enry Mbabali booked his first ticket to the Nile Special Pool Open grand final after beating Rashid Ssebatta in Masaka over the weekend.

Mbabali led the hosts in all Club Klein Pool Club final after seeing off his opponent 5-1 in the final.

"I am very happy to make it to Kampala. My target is to work hard to improve my game because I will be going for the car," Mbabali said after the triumph.

Both Mbabali and Ssebatta however, qualified for the grand final alongside Dennis Nyombi who beat Brian Mpoza 4-0 to take the third slot.

To reach the final, Mbabali showed character as he saw off two-time grand finalist Henry Senyonjo in the quarterfinal before brushing off Brian Mpoza in the semi-final.

"I got so much motivation by playing senior players in the national league. I am going to put in more effort so that I take on them in Lugogo," added Mbabali after the feat which earned him the top prize of sh150,000.

The Masaka meet sets the tone the month-long regional championships that will involve 40 centers countrywide.

The top three players from each center qualify for the grand final slated for October 22 in Kampala.

Like the previous three years, the champion of this year's event will receive the top prize of a brand new car, sh2m and a pool table.
The package is part of the sh1bn sponsorship package that Nile Breweries offered to PAU in July.

Samona Pool Club kingpin Amos Ndyagumanawe is the defending champion of the event that will involve the best 120 players in the grand finale.