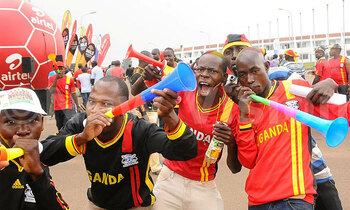 Presented by Joseph Kizza (@joekizza)

Summary

It was an Africa Cup of Nations Group (AFCON) D qualifying tie
Uganda finished second in group but level on points (13) with Burkina Faso
The Cranes had last been at the AFCON finals in 1978, finishing as runners-up
Burkina Faso played host to Botswana, beating them 2-1

6.48pm: UGANDA STORMS GABON


FULL TIME: Uganda 1 Comoros 0

Farouk Miya's 36th-minute goal is the winner as Uganda advance to the AFCON finals in Gabon for the first time since 1978.

What a moment to relish!
6.35pm: TENSE FINAL MOMENTS

The hands of the clock are slowly ticking away in nervy final 13 minutes of this tie as Uganda, ever looking for a cushion, are throwing their men forward. But goal number two is elusive. A win today will take the Cranes through but with a well marshalled Comoros side by captain Nadjim Abdou, it just is not over yet.

Uganda coach Micho is clearly restless on the sidelines, willing his men forward whenever there's a chance for a break.
20 MINUTES TO GO!

Uganda Cranes are pushing for another goal to cushion their delicate lead. But the visitors, who have nothing to play for as far as qualification is concerned, are proving ever solid. Credit to their backline for holding out a series of marauding Ugandan attacks.

We are left with 20 minutes on the referee's watch.
6.12pm: SUBSTITUTION - Uganda

Uganda Cranes make a change, with Emmanuel Okwi coming on for Luwagga Kizito 12 minutes into the second-half.

Earlier, the hosts got a brief scare when goal-scorer Farouk Miya landed awkwardly during a challenge in the opposition's area. He stayed down for a while as Namboole held its breath. But after quick medical attention, the young striker proved he is fit enough to shake off the knock.
SECOND HALF UNDER WAY!

It's back to mattters on the pitch as Comoros start off on a high, getting a corner in the first five minutes after restart. Nothing comes out of it though.

Meanwhile, in the other Group D tie, Burkina Faso, who are level on points with Uganda as it stands, are leading Botswana by 1-0, thanks to Prejuce Nakoulma's 18th minute goal.
HALF TIME: Uganda 0 Comoros 0

Well, well, well. It's not often that you see Uganda take the lead, even at home, although they often end up going on to win the games. But today's is a rather different script. Belgium-based striker Farouk Miya, who plays for Standard Liège, is the man responsible for giving Uganda the all-important lead.

He is known for his match-winning exploits, but with a whole 45 minutes yet to play, such an open game promises more goals. Captain Geoffrey Massa was denied by outstanding Comoros keeper Ali Ahamada, moments after defender Joseph Ochaya saw the post deny him. He was offside though.

The visitors have also had flashes of dangerous moves up front, though not good enough to trouble lanky Ugandan keeper Denis Onyango.
5.36pm: GOAL! - Farouk Miya

It's this young man again: Farouk Miya. The youngster shows great speed and tenacity when he dashes forward, draws the keeper off his line and the hard-to-beat Ahamada sticks his foot out. But the ball lands kindly on Moses Oloya down right, his effort is scrambled in an encounter with a oppoent defender. The messy effort lands again on Miya who reacts quickest to blast into the net to send Namboole into frenzy!
5.32pm: CLOSE! - Massa


Oh my! What yet another save by Comoros keeper Ali Ahamada, who has shown his intention to make life difficult for the home attack! Moments after Ugandan left-back Joseph Ochaya's sleek effort is denied by the woodwork, albeit he was already offside, Geoffrey Massa's header is tipped over by the Comoros goal-stopper. Great save!
5.20pm: VISITORS SOLID


Comoros, who have never made it to the finals of the Africa Cup of Nations, are proving resilient and appear not to be shaken by the large home crowd. In fact, they engineer a good move down on the left flank, with the Ugandan defence ripped open, but the resulting effort will not trouble goalkeeper Denis Onyango.

As it stands, any first goal should change the dimension of play here.
5.14pm: CLOSE!


It's fair to say it is a relatively even game, but hosts Uganda seem to be creating more chances, as a good build-up is forced out for a corner. And the quickly taken corner is cleared before Uganda gets another, a third. Farouk Miya is the delivery man and Murushid Jjuko's header should have beaten the keeper, Ali Ahamada, who does well to parry it out. The ball is scrambled out of danger.

That was close! Comoros survive!
5.02pm: KICK OFF!


And we are underway at Namboole! Game on!

Uganda starts off strong and gets the first free-kick of the game after Cranes captain Geoffrey Massa is brought down. But the resulting effort bears nothing.

Meanwhile, there are a number of high-profile figures in attendance today, including First Lady and education & sports minister Janet Museveni.
4.54pm: National anthems


(Uganda v Comoros kickoff at 5pm)

First, the national anthem of Comoros. Then goes the Uganda national anthem, with players, officials, and fans alike singing majestically along.

A bit of nerves? Says who?

One half of the imposing Namboole Stadium is soaked in the early evening sunshine. Kick-off shortly.
4.45pm: Emerging out on the pitch


(Uganda v Comoros kickoff at 5pm)

The Uganda Cranes players are first out on the damp pitch and are welcomed by a huge, defeaning applause and cheers from the partisan crowd that's determined to witness a vital tie. The sun is back up in the skies after a downpour earlier in the afternoon here in Kampala.

The home side are followed by their visiting Comoros opponents who are determined to throw a spanner in the works of their Group D rivals.

Team inspection time.
4.40pm: Today's starting line-up


(Uganda v Comoros kickoff at 5pm)

And here are the players starting for Uganda Cranes today: Denis Onyango, Nicholas Wadada, Joseph Ochaya, Murushid Jjuuko, Isaac Isinde, Khalid Aucho, Tonny Mawejje, Luwagga Kizito, Moses Oloya, Farouk Miya, Geoffrey Massa

We are only minutes away to kick-off inside a fully-packed Namboole Stadium.
4.30pm: 30 TO KICK-OFF . . .


(Uganda v Comoros kickoff at 5pm)


4.10pm: GOING DOWN THE CAMPAIGN LANE


(Uganda v Comoros kickoff at 5pm)

When Multin 'Micho' Srejodovic first looked at Uganda's AFCON 2017 qualification group, his reaction was deductive. He said, "We must qualify for the Nations Cup".

Micho's conclusion was not out of arrogance but plain logic. Even for a team of Uganda's scorched qualification history, Burkina Faso, Botswana and Comoros were as easy as it could get.

New Vision's Charles Mutebi traces Uganda's campaign trail to today's decisive tie against Comoros.

Find that in the Sunday Vision paper or check out the e-version HERE.
3.45pm: AVOID SOLITARY MOVEMENT


(Uganda v Comoros kickoff at 5pm)

Are you on your way to Namboole? Or have you already taken your seat inside the stadium? Well, if you are out there, there are things you need to keep in mind so you can return to your place of abode in one piece. We've put together a couple of Dos and Don'ts for the traveling fan, and one of them is to keep in groups of people you know.

Arm yourself with an arsenal of other useful Dos and Don'ts HERE.
3.30pm: SECURITY RAMPED UP


(Uganda v Comoros kickoff at 5pm)

As expected, where there's a huge crowd, expect the level of security at the venue to be heightened. Such is also the case with Namboole today as thousands of fans make their way to the 'fortress'.
3.20pm: GOOD WET AFTERNOON!

(Uganda v Comoros kickoff at 5pm)

Uganda lost 2-0 to Ghana in that March 16, 1978 final in Accra, meaning that the last time The Cranes were at an AFCON finals, they left an emphatic stamp in the ground. It should perhaps be surprising that the runners-up of a major tournament would take several decades to get back in there. But such is the case for Uganda.

Anyways, Kampala has had a rare shower this afternoon and whether this might be seen as the ultimate blessing from the gods is left to anyone's imagination. The rain is gone and now the sun is slowly peeping through the clouds.
3.00pm: 'WAIT, YOUR TIME IS COMING'

When Uganda Cranes last featured at the finals of the Africa Nations Cup, current head coach Milutin Sredojević, better known as Micho, was only eight years old - and only six months away from turning nine.

None of the players featuring in today's The Cranes squad was born yet. It's a long time ago. No doubt, 38 years is a very long period time. But 38 years OF WAITING seems even much longer!

Today, the men who will represent The Pearl of Africa on the pitch will look to changing the course of that long script of footballing disappointment and heartbreak. It's Uganda v Comoros, ladies and gentlemen.

You are welcome to this live coverage of the build-up to today's AFCON Group D qualifier that pits a side hoping to qualify for the finals in Gabon and another that is already out of contention.

Oh, and by the way, in case you are wondering what's going on in the picture immediately up there, the year is 2004: The Cranes coaches Frank Anyau (left) and Mike Mutebi are busy passing on instructions to players against DR Congo at Namboole in a World Cup qualifier. Uganda won 1-0