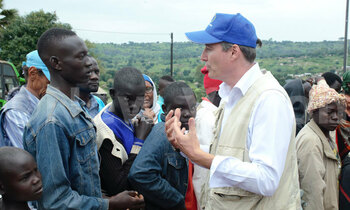 PIC: EU head of delegation, Schmidt speaks to Wilson Dara a refugee at Oraba border post in Koboko district on Friday. Photos/Pascal Kwesiga

A few days after United Nations High Commissioner for Refugees (UNHCR) issued a clarion call to the donors and international community to do more to ease the crisis triggered by the refugee influx in Uganda, diplomats from over ten donor countries rushed to west Nile on Friday to assess the situation.

The head of UNHCR, Filippo Grandi, during his visit to Uganda early this week appealed to the donor and international community to step up support to Uganda and the UN refugee agency to tackle challenges presented by an influx of South Sudan refugees into Uganda amid an ongoing political crisis in their homeland.

The EU head of delegation, Kristian Schmidt, the Japanese ambassador, Kazuaki Kameda and his Norwegian counterpart, Susan Eckey, visited Oraba in Koboko district, the Ugandan side of the border with South Sudan on Friday. Schmidt was accompanied by representatives from EU member countries; UK, Denmark, Belgium, Ireland, Sweden, Netherlands and Germany.

The delegation later toured the newly re-established Bidibidi refugee settlement in Yumbe district.

"There is no hope in South Sudan and it is likely that more refugees will come and those who are already here (in Uganda) will stay for a long time, "Schmidt said during a press briefing at Bibibidi refugee settlement, "We have talked to some of them and they have said this is their second time to flee to Uganda and they are not going back,"

The South Sudanese, he observed, have lost hope in their leaders and stressed the need to find a lasting solution to the bitter conflict that has dominated the country's five years of independence.

The conflict that has been fought along tribal lines has worsened the ethnic divide in a country that won independence from Sudan after over two decades of an armed struggle. Riek Machar, the country's former first vice president, who fled Juba in the wake of the July clashes was replaced with Gen. Taban Deng, by Kiir last month.

Although Deng has the support of some members of Sudanese People's Liberation Movement in Opposition led by Machar, some have denounced him and indicated that they will resume the power struggle as soon as their leader (Machar) returns to Juba. Machar, who is said to have fled to DRC on foot in the wake of July clashes, is currently in Khartoum.

"How I wish the leaders of South Sudan were here (in Uganda) to see how their people are suffering. The crisis in South Sudan needs to be addressed too," Schmidt added.

Growing numbers

According to information from UNHCR in Kampala, over 100,000 refugees from South Sudan have fled to Uganda since July 8 when two armed forces, one taking instructions from Machar, and the other under the command of president, Salva Kiir, fought fresh fierce battles again.

The clashes between the two armies that were supposed to be integrated under the August 2015 comprehensive peace agreement erupted just a month before the anniversary of the pact that was thought to have ended two years of fierce fighting that broke out in December 2013.

Currently, the number of South Sudan refugees in Uganda, including the ones who started fleeing in July and those that fled the December 2013 fighting is over 230,000.

For example, there are 200,000 South Sudan refugees living in 19 settlements in Adjumani district. The Office of the Prime Minister (OPM) can no longer settle more refugees in the district because it does not want the population of the immigrants to outstrip the number of indigenous people which is slightly above 220,000.

By Friday afternoon, the number of South Sudanese refugees at Bidibidi settlement which was re-established last month was 38,626 and more were ferried to the site in buses and trucks later. Some of the South Sudan refugees continue to walk from their homes to Rhino and Kiryandongo settlements in Arua and Kiryandongo district respectively.

Uganda Saluted

EU boss saluted Uganda for accepting to continue to receive refugees from the world's newest troubled nation and the Yumbe district local authorities as well as the community for providing land to settle the South Sudanese.

"The UNHCR High Commissioner has just been in Uganda and he stated that Uganda is a model country in terms of refugee settlement and protection. During the upcoming refugee summit on the margins of UN General Assembly, we will all be saying Uganda is a country that deserves to be rewarded," he added.

While other refugee hosting countries have camps, Uganda has settlements. In Uganda, refugees get land to establish a house and for cultivation. The refugees get similar services provided to Ugandans and are allowed to set up businesses and move freely across the country.

Schmidt explained that the EU contributed to efforts to settle South Sudanese refugees in Uganda in 2015 but their spiking number this year has disrupted its planning.

"We may not announce any thing (contribution) today but we are all thinking about how to display our solidarity. We are impressed and grateful to Uganda," he stated

The EU delegation head said that donors and the international community are under moral obligation to support Uganda because it is preventing refugees from drowning in Mediterranean Sea seeking to cross into Europe.

Susan Parker-Burns, the public affairs officer at the US embassy in Kampala, said President Barack Obama will appreciate Uganda for its role in responding to the refugee crises in the region during the UN refugee summit that will take place on the sidelines of the UN General Assembly in New York towards the end of this month.

Current situation

Uganda is currently hosting over half a million refugees, with the biggest number coming from South Sudan (69%) and DRC (17%). The number is expected to grow to over 600,000 refugees by the end of the year.

Kameda commanded Uganda for providing security to the refugees in settlements and the generosity demonstrated by the host communities to the fleeing South Sudanese.

"There is need to provide more support to Uganda. I will use this trip and what I have seen to convince Japan to provide support to Uganda," he added.

Eckey said Norway has been supporting negotiations in South Sudan, promising that her country will continue to support the processes geared towards restoring peace and easing the humanitarian crisis triggered by the conflict.

The commissioner for refugees in OPM, Apollo Kazungu, said it is interesting that amid limited funding Uganda has kept its borders open to refugees while other countries have closed theirs.

He identified areas that need urgent interventions from donors and international community in refugee settlements as education, sanitation and accommodation for refugees and staff of OPM staff.

Uganda is the third largest refugee-hosting country in Africa after Ethiopia and Kenya. Globally, it is the eighth largest refugee-hosting country.

What refugees say

Vick Minara, 17. The life of a refugee is really hard. There is not enough food for us all. I was in school in South Sudan but there is no school here (Bidibidi). I do not know when peace will return so that we go back home and resume studies.

Hassan Manansi, 32. I fled to Uganda from Yei state. People are still being attacked and hacked at night by armed people. I was kidnapped by armed people and stayed in the bush with them for 14 days before I escaped.

Betty Idia, 15. We fled home in the night. We encountered several road blocks manned by armed people. They stole our money, mattresses and furniture. The situation is bad. We cannot go back to South Sudan.