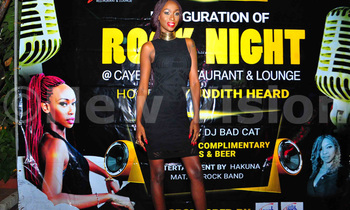 Socialite Judith Heard recently realized that people had gotten over her. And that she needed more ways, besides attending parties, to be in people's faces.

She thus set out on a job hunting spree. Rumors abound that she tried radio presenting and TV and lots of other media house things.

Whether she hit a dead end is a story for another day. Because news filtering in has it that she now has things to occupy her and save her from making enemies as a hobby.

Sources relay she is into events management and hosting. One of her such gigs was the recent Rock Night at Cayenne Restaurant and Lounge in Bukoto.

The show, to many people's surprise, attracted hordes of people from different walks of life. Judith Heard is surely making money out of being a socialite. Because her show, given these pictures, was a success.
Some of the revellers having fun at the event