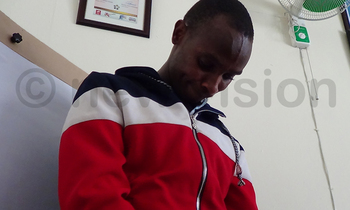 Police in Kampala has arrested a suspect who cons people of their money by pretending to be working in a bank in Kampala.
The Kampala Metropolitan spokesperson Emilian Kayiwa said the suspect was arrested from Arua Park in Kampala has he was setting up his next victim.
Kayima also stated that he is a dangerous fraudster who uses various names as he executes his fraud.
"Some of the names we have registered to be used by this serial conman include Ivan Agaba, Alex Agaba, Ivan Kabushenga and Emma" Kayima said.
Kayima added that police also has two case files SD 13/30/10/2015 and CRB 622/2016, in which the 27-year-old is named as a suspect.
He explained that in both files, he conned his victims claiming to be working for a bank in Kampala.
One of his victims is Lisa Muthoni Gateru a Kenyan National who works with MPESA was conned sh26m and the other is Christine Nantale who works with a forex bureau in Kampala was conned of $15000.
Police suspects that there could be many more people he has conned so it has appealed to the public to go to Central Police Station in Kampala and report.
"There is a possibility that this conman has robbed so many people and we encourage them to come and report him so that we can investigate these matters and bring the suspect to book" Kayima said.
In the two files, he conned his victims claiming to give them currency at good rates.
Kayima also revealed that the suspect did not have any identification on him but police is going to thoroughly investigate so that his real identification is revealed.
"He does not have a national identification card or anything that can lead us to his real names. But we are very lucky that we have him and thorough investigations we will find out who he is", Kayima added.