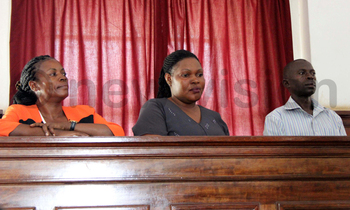 One of the suspects in the murder of slain City businessman Eriya Bugembe Ssebunya alias Kasiwukira has claimed that one of the city businessman Geoffrey Kirumira wanted to bribe him in a bid to implicate relatives of the deceased.
Testifying on oath on Wednesday, former Police officer Ashraf Jaden said the business mogul attempted to bribe him through Police officers - Julius Ogwang and James Magda.
Jaden, 41, said the two Police officers told him that Kirumira was to offer him sh200m and a house in case he pinned Kasiwukira's widow Sarah Nabikolo, her cousin Sandra Nakungu and children of the deceased.
Jaden formerly attached to Muyenga Community Police Station also told court that he had been promised a transfer to another station by the duo, if he had accepted their assignment.
Court also heard that Magda made promises to Jaden as he recorded his statement, a statement he later disowned saying his testimony was changed by Magda who was recording it on paper.
The accused are battling charges of murder for allegedly killing Kasiwukira. They have spent one year and ten months in detention at Luzira Prison. The offence attracts a maximum penalty of death on conviction.
Prosecution alleges that Kasiwukira was murdered on 17th October, 2014 at about 6am in Muyenga Diplomatic Zone. He was knocked down by a speeding car as he jogged in the neighbourhood.
Kasiwukira was the deputy treasurer of the Kwagalana Group, an association of wealthy people in the country.
The case was adjourned to Monday next week.