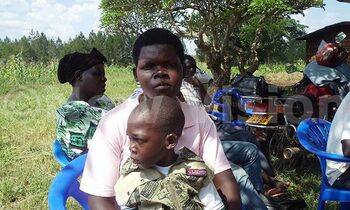 24 year old Colleen Akello had her first child at age, 16. Like many other young girls in Aboke, Kole district, Akello grew up in an environment, where child marriages were rife.

In Kole and many other districts in the north, the practice of child marriage is handed down from the past and has been one, authorities have struggled to eliminate, through the years.

As a consequence, many naive young girls have become victims and have needless to say, dropped out of school.

Akello got pregnant yet her plans (known to her now deceased parents) were to continue with school.

"Like many of my collegues, I could resist what my society perceived as right. Child's rights advocacy groups in Aboke, my home area, were few and far between. As a result, proscription of the practice became hard. I dropped out of school after I got pregnant. I was then in my senior two and my parents insisted I get married," Akello recalls.

Though she gave in to her parent's demands, Akello's wish was to continue with school. She got married to a man from the locality but mainly for convenience and to please her parents.


Akello however never lost hope and her patience was rewarded recently.She has rejoined school, 9 years later on, under the auspices of a World Vision program that aims at spearheading better education, health, nutrition and food security for Kole and Oyam districts in Northern Uganda.

To her credit, Akello took exception to long drawn out pleas to have a second child.
Her decision to rejoin school (she is back in S.2) comes at a time when primary and lower secondary school enrollment and retention rates in both Oyam and Kole, have been on the rise.
The increased enrollment has been attributed to improved learning environments in the sub counties of Aboke, Achaba, Minakulu and Aber, Opeta, which lie in Kole and Oyam respectively.
Better classrooms and staff houses have been built and textbooks supplied to schools such as Atide, Dogapio, Achaba, Obot and Aber Prima in both districts.

"The World Vision program aims at transforming and sustaining the livelihoods of 1,300,000 vulnerable young boys and girls. Emphasis is being laid on getting more vulnerable young girls in Kole and Oyam, into school and for good measure, into better equipped health centers, if they are pregnant or if their children get sick," William Mubiru, the World Vision program manager for Kole and Oyam, states.

THE SUCCESSES IN EDUCATION
A 2015 World Vision education sector performance indicator report shows a percentage rise in the numbers of primary school children (boys and girls) who have acquired numeracy and application skills by primary 6 in both districts.
In Kole, there was a 23.8% rise from 16%, whilst in Oyam, there was 20.6% rise from 18%.
"In Aber subcounty, Oyam district, enrollment in 19 primary schools increased to 22, 130 pupils in 2015 from 11,201 in 2013.
In Aboke, Kole, over 28 classroom blocks, dormitories and teachers houses have been built. In Achaba, Oyam, 26 different structures have been built across 30 different schools," Mubiru says.

According to the 2015 Uganda Bureau of Statistics, statistical abstract publication, the gross enrolment rate in Oyam stands at 138.
The gross enrolment rate for Kole stands at 114.
"The enrollment rates according to that report may still show low enrollment but with far-reaching initiatives like these from the World Vision and with functional government programmes like UPE, the anticipation is that enrollment in both districts will rise, as the years go by and as school learning environments are improved," Oyaa Nahori, Kole Resident District Commissioner, explains.

Last week, schools in Aber, Akul and Achaba sub counties in Oyam district got 4,504 pedagogic and scholastic materials, worth 50 million.
Kole district on the other hand got 992 worth 10 million.
"Enrollment has gradually increased across most sub counties in both districts. In Aboke for example, enrolment increased from 10,529 in 2013 to 13, 568 in 2015," Mubiru says.
While receiving some of the materials, Nahori, explained that Kole and Aboke in particular had continually performed poorly because of a lack of reading materials.
"One of the challenges hampering literacy in Kole has been a lack of reading materials. These materials should go a long way in improving the literacy levels in Aboke and Kole in general," Nahori said.

HEALTH IMPROVEMENTS
For some of Akello's contemporaries unable to continue with school like 24 year old Dorcus Alladi, there are signs that the health circumstances in her home area are going to change for the better.
After recent refurbishments, Opeta health center in Aboke is now a fully functional maternity ward, where mothers like Alladi can go to for antenatal, postnatal and other health related services on a regular basis.
Unlike in the past, the health center now receives and handles up to 35 pregnant women, daily. Prior, it was handling only 5-10.

Opeta health facility received a myriad delivery pads, 25 mama kits (all-in-one kits containing items needed for a clean and safe delivery),community ambulance(for transporting pregnant mothers especially those in far flung areas to health facilities), anti malarials, septrin drugs , vitamins and lab equipment.
Ogwangacuma health center in Kole now also has a fully equipped maternity ward, staff houses and an outpatient department.
"I had my first child from home but I was dissuaded from having a second one from home by friends. I had my second child from a health center near Lira town. Opeta health center has improved a great deal and it is happening at a time when malaria and diarrhoea have been rampant," Alladi says.

The Assistant District health officer, Oyam, Simon Mande points out that 80% of patients who seek treatment at health centers in the district invariably present with malaria.
"Anti malarials have been hard to comeby at some of our health centers, especially those in the villages, yet malaria is still a huge problem in most parts of northern Uganda. With this help from World Vision however, Oyam district hopes to reduce that numbers of people reporting to health centers with malaria by 20% by year end," Mande said.
Mande says since the project begun, 55% of all newborn deliveries and 90% of immunisations are now carried out in fully refurbished and equipped facilities in the district.

MEASURES AGAINST CHILD MARRIAGES
Measures are also been taken to stamp out child marriages, which are rife in both districts.
"For young vulnerable girls, child protection committees have been formed in both districts and around 50 culprits have already been arrested. Early marriages are counterproductive to girls. They have in many ways affected development in Lango sub region," explains Christine Amuge, the Aboke subcounty chief.

Aboke and other sub counties in Kole have also become by words for poor hygiene.
Of late however, the state of hygiene and access to safe water coverage have been improving.
Before the World Vision project set forth, hygiene coverage in Kole was at 57%. With the project in its stride, hygiene coverage now stands at 84% and at present, more than 200 village training teams have been sent out and 2,400 households have been mobilized to see to it that hygiene, sanitation and pit latrine coverage are improved. In the past, pit larine coverage in Kole was at 7%. It is now at 14%. Access to safe water coverage in Aboke for example is now at 100%. 18 boreholes were constructed in Aboke.

CHALLENGES
Though access to safe water in Kole and Oyam has improved, there have remained some challenges.
Maintaining the water points has been a problem on account of the persistent thefts of borehole equipment.

In both districts, there still remains a problem of open defecation despite the drives to have people embrace the usage of pit latrines.