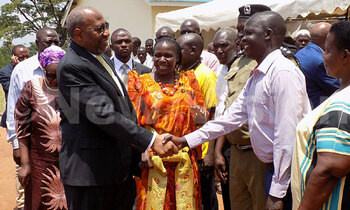 Prime Minister Dr. Ruhakana was stunned when he learnt that Nandere parish in Kadama sub-county in Kibuku district has never had a girl study beyond Senior Six.

He and other ministers, including general duties minister Mary Karooro Okorut, were in the area for the official re-launch of a baraza project.

"The biggest challenge in Nandere is high school dropout rate of girls due to the long distance they have to walk to access the nearest government secondary school," said a resident, James Kamya.

"It is painful that Nandere parish has never produced a girl child beyond Senior Six. They all drop out of school at an early age because of pregnancy while others abandon studies for marriage."

Some parents are accusing boda boda motorcyclists and chapatti men of waylaying their girls along the way and lure them into sexual acts.

It is understood girls have to walk as far as 9km to get to the government secondary school in Kadama town council, something that discourages many.

One angry resident said the district education officer and inspectors of schools are not doing their work of sensitizing parents.

"Government and other stakeholders still have a lot to do to help children in Kibuku pass like other districts do. Our only school performing well is High Light Private Secondary School that even belongs to area Member of Parliament," he added.

To emphasize the gravity of the situation, the visiting ministers were told of how Kadama Primary School had its roofs blown off by a storm four months ago. Relevant authorities were notified but that up to now, nothing has been done about it.

School children at the school are reportedly now studying under trees.

On his part, PM Rugunda expressed his concern over the high school drop-out and apologized to the residents, adding that government will do what it takes through its policy to establish a seed school in Nandere.

"The government policy is very clear, that every sub county should have a seed school, and we are now working hard to achieve this goal," he said.

Rugunda appealed to the district leadership and security to handle the matter with urgency, adding that culprits should be punished for destroying the future of young girls.

Kibuku district education officer Christopher Wamika was booed by the crowd as he tried to defend teachers who charge parents extra money. He said parents keep their children in rice gardens instead of sending them to school.

Wamika did not readily offer figures of the school drop-out rate in Kibuku but confirmed that students walk long distances to school.

He said Nandere is the most populated parish in the district.