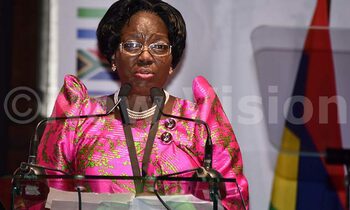 PIC :Rt. Hon. Rebecca-Kadaga at the 47th CWP Africa Region Conference, Balaclava, Mauritius(Photo by Prossy Nandudu)

The speaker of Parliament Rebecca Kadaga is pushing for the inclusion of women in all leadership positions not only in the country but on the international scene for effective service delivery.
She said this can ably be pushed by legislatures who are responsible for shaping the future of nations through their oversight roles.
"In their core mandate, which revolves around legislation, policy oversight Parliamentarians are central in the growth and development of any country, said Kadaga.
She made the remarks while addressing delegates from African Parliaments at the opening of the 47th Commonwealth Parliamentary Association (CWP) conference taking place in Balaclava, Mauritius.
Kadaga noted that strides have been made in increasing women representation in parliament, citing success stories of Cameroon, Zimbabwe, Tanzania, Namibia, South Africa, Rwanda and Uganda where women representation in parliament ranges between 30 to 40 percent.
She however noted with concern that this is not the case in Western Africa, where women representation is less than 30 percent and this has been attributed to the notion that elective posts are for men therefore it's a taboo for a woman to contest for a parliamentary position.
Kadaga reminded African governments to ensure that women are always included in all the peace and security processes at all levels including peacekeeping missions and negotiations and peace building.
The Prime Minister of Mauritius, Rt. Hon. Sir. Anerood Jugnauth, reminded parliamentarians that the twin pillars of the Commonwealth are democracy and social economic development.
"Democracy and development are inter-connected. Democracy creates the necessary conditions that favor economic development by giving citizens the liberty to freely make choices for their well-being and future," he said.
The Premier added that, "where there's development, there is always political stability which re-enforces democracy".
He called for responsible utilization of natural resources to reduce on climatic changes in Africa and the whole world.
Hon. Dikigale Masefako Clarah from the National Assembly of South Africa was elected the new Chairperson for the Commonwealth Women Parliamentary Association.