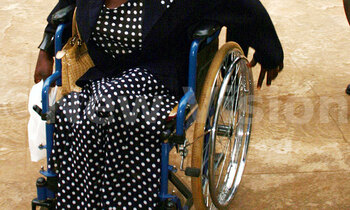 KAMPALA - A group of 11 organizations supporting persons with disabilities (PWDs) want government to create an authority that will manage their issues.

"If forests can have an authority - NFA - to protect the trees and environment, what about the PWDS who pay taxes and contribute to the national economy?" said Ambrose Murangira.

He is the executive director of the Uganda National Association of the Deaf (UNAD).

The group was meeting MPs on the committee of gender who are in the process of amending the PWDs Bill 2014. The piece of legislation is apparently being scrutinized by the committee chaired by Nakasongola Woman MP Margret Komuhangi.

"We want an enabling law to be enacted that will create an institutional framework with the mandate to protect, promote and develop PWDs' affairs and health," said Murangira.

The kind of authority the group wants will have powers to recruit professionals to manage their issues, have a vote on how disability funds are used, demand for disability aides like wheelchairs, white canes, hearing aid, crutches, hearing loops, Braille system used by blind and visually impaired to communicate, etc.
With the authority in place, it will make it a must for hospitals to recruit interpreters to help those who cannot explain clearly their ailments to get the right medication.

The group argues that their affairs are not catered for by the National Council for Disability (NCD), a government institution assigned to handle PWDs' affairs under the ministry of gender, labor and social development.

They say NCD is not helping in voicing their concerns like funding.

"NCD is weak and swallowed up by the gender ministry," said Murangira. "It should be strengthened to a level of an authority to carter for better governance of all PWDS."

The program officer at Disability African Rights Medi Ssengooba said PWDs, Uganda's largest minority group, face challenges in participating in and accessing education, employment, health care, transportation, political participation or justice.

And Hassan Mulondo, who is the general secretary for Uganda Albino Association, said most albinos lack the finances to buy medicine that treats the skin ulcers that affect them.

"In the Bill, there is no clause that addresses issues of albinism and yet we cannot afford most of the things we need to survive."