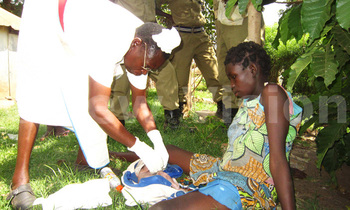 PIC:A midwives from Serere Health Centre IV attends to Joyce Mary Ajalo . Photos/ Samson Adongu

A suspect delivered in the Police cells at Serere Central Police Station (CPS) as they were preparing her to go to court.

Joyce Mary Ajalo, 18, was suspected of burning her seven-year-old step daughter, Deborah Asengo who she accused of stealing sh500 from her home last week.

Ajalo who looked very comfortable during morning hours surprised the police officers after she developed labour pains shortly after lunch.

One of the midwives at Serere Health Centre IV attended to her before she was transferred to Serere Health Centre IV for further medical attention.

Asengo, an orphan has been under the care of her two step mothers Ajalo and Anna Grace Ibiara, 28.

She was reportedly burnt last week after Ibiara discovered that her sh500 was missing.

Ibiara reportedly called her co-wife, Ajalo for help and they tied the girl's hands with dry banana leaves and burnt her.

The Police at Kamod Police post were immediately informed and they arrested the suspects who were taken to Serere CPS.