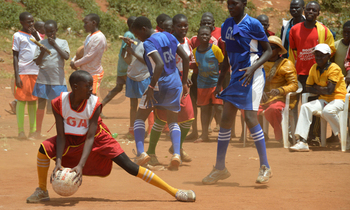 Head teachers and game masters of schools using mercenaries in the National Primary Schools and Special Needs Learners Ball Games due September 5-13 at Teremunga Primary School in Koboko risks facing severe sanctions from the Ministry.
The Commissioner Physical Education in the Ministry of Education and Sports Omara Apita disclosed this to New Vision on Monday.
"We are reviewing the sanctions together with the head teachers association to see that head teachers are totally responsible if their schools are convicted for use of mercenaries," Apita stated.
"Currently there is a three year ban on schools found guilty of using non bona fide pupils but we can't continue punishing the other children who join the school later and that is why we are reviewing sanctions so that the headmasters are totally responsible," Apita added.
Teremunga Primary School in Koboko district has been designated to host this year's edition of the games.
"Koboko was nominated to host this year's primary schools ball games because it has never hosted the nationals," said Martin Okwir, the chairperson National Primary Schools Sports and Games Association.
Okwir said the championship is to enable the young children display talents in the U12, U14 and U16 categories.
"We have done our best to prepare children on the basics and rules of winning the trophies during the competitions and we hope for a successful event," Michael Yobuta, the head teacher Teremunga said.
Yobuta said the district has already identified sufficient pitches for football, handball, volley ball and netball for boys.
He said the National Primary Schools and Special Needs Learners Ball Games will also incorporate schools' sports discipline of girls football, volleyball and handball among other events.
However, William Bwambale, the general secretary national primary schools sports and games association said all participating teams will be awarded certificates of participation.