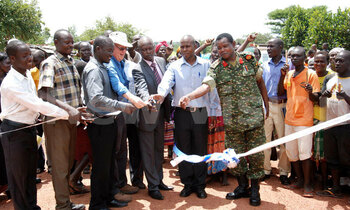 Residents of Kal Umu parish, Paicho Sub County, Gulu district have been saved from the poor road connecting Paicho to Tegot covering a stretch of 8.3kms.

The road which has been in a sorry state for the last five years was rehabilitated by World Food Program (WFP) in collaboration with USAID at a tune of over Shs560 million. The road connects Anyom twon and Acet Omer villages.

This is one of the key objectives of WFP agriculture and market support programme in ensuring farmers access market, inputs, social services and improved utilization of existing satellite collection points (stores).

The residents could not hide their joy for the development noting that the road had become problematic in transporting their goods and accessing Kal health centre II.
Geoffrey Anywar the Local Council one chairperson of Anyom twon village acknowledged that farmers are now accessing the market easily and mothers too are delivering from health facility.
"Deliveries in the village were at 70% for the last years, but since the completion of the road, they have reduced to 10%," Anywar said.

Peter Okot the Local Council III Sub County chairperson said most roads in the sub county get spoilt because people pass through the road with Ox ploughs.

Okot promised to follow up such people and be held accountable for their actions.
Mike Sackett, the Country Director WFP also alluded that, many good projects have been completed but their maintenance is very poor.

Sackett, who has worked in developing countries for the last 47 years, commended the level of recovery in Acholi Sub region which has just settled from the war Insurgency.

The Country Director made the remarks on Friday during the handover of the Market Access road to Gulu district local government.

Simon Peter Oola the Vice Chairman Gulu district said development cannot be achieved unless there's a good road network.

Oola however criticized residents for failing to do productive work and instead resort to short cuts to earn a living by selling off their trees to charcoal burners which is bad for the environment.