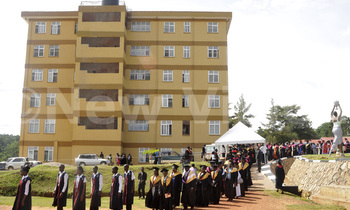 Imagine interacting with a machine that has a head, two arms, two legs and instructing it to do several tasks ranging from welcoming guests, carrying heavy things to comforting the sick.

Also to your aid, there is a surveillance system designed like a vehicle and one can drive it using a remote to collect information from hard to reach areas.

The information is collected by cameras that send it to the internet.

Life becomes stress-free because then only a command is needed to carry out many tasks in a more efficient manner than a human being would perform.

Producing such robots is quiet expensive as it involves carrying out research and more so the spare parts are imported from countries like China.

Collins Ssemmanda, the Public Relations Officer at Ndejje University in Luweero, recognizes the difficulties facing most innovative students but says institutional support is important.

"Our lecturers like to associate with students with brilliant creative ideas and we put in an effort to ensure that we support them," Ssemmanda says.

He notes that once the program takes off at a production phase, it will utilize the market opportunities in several industries such as agriculture and engineering.

For a long time, the Christian university kept a low profile but its research, innovativeness and sports prowess have opened opportunities for growth and recognition.

Founded in 1992, Ndejje University was the first private university to offer undergraduate education in Uganda. The university was founded by the Anglican Diocese of Luweero, which gave it its current status in 1995.

It thrived under the ownership of one diocese until 2002 when all the six dioceses of Church of Uganda in Buganda region came on board.

However, for 17 years the university was not chartered. The university sought to ensure that all certificates awarded in the university were nationally and international credited. It was in 2009 that Ndejje University was chartered by National Council for Higher Education. This also meant that all the university's courses were accredited.

Today, the university boasts of a total population of 8000 students, majorly Ugandans and some international students.

It offers multiple programs, awarding certificates in undergraduate and post graduate courses such as Arts, Education, Science and Technology.

According to recent 4iCU.org university web rankings the university holds the 42nd position in Africa and 2nd in Uganda after Makerere University. This implies that Ndejje is the most highly ranked private university.

Ssemmanda attributes this growth to the uniqueness of the university, a quality that has attracted partners who are significant in creating a difference in the way academics are pursued.

"A number of people are coming on board to support our science and technology program because of the uniqueness at our university. We are collaborating with College of Engineering at Dar Es Salaam in Tanzania, Norwegian Petroleum Academy," he says.

This uniqueness stems from major investments in science fields such as mechanical, chemical, electrical engineering petroleum and agriculture.

"We have invested in resourceful equipment to ensure our students benefit from the knowledge and translate it easily into employable skills," Ssemmanda explains.

These investments play a significant role, not only in the students' lives but also the university's existence as it tries to move away from using borrowed funds to creating its own income generating projects.

Other key Achievements

All work and no play make Jack a dull boy, and with a "hands off my crown" attitude, Ndejje University has continued to dominate the sports scene in Uganda.

The university celebrates victory both at regional and international level. It has nurtured national badminton stars, Shamim Bangi, Daisy Nakalyango, who returned home with the first ever bronze medal from the Thomas and Ubar Championship in Mauritius.

It also remains reputable for raising the bar higher in games like volleyball, wood ball and football.

The university has also introduced a graduate school that offers a number of degrees in the areas of agricultural sciences, Information Technology, Social Sciences and Business Management.

The school aims at providing research based learning that will enable students to create positive change in their communities and careers.

Going forward

Ssemmanda says the university seeks to maintain consistency in delivery of both academic and extracurricular activities.

Under its holistic approach to learning, it also hopes to churn out more employable graduates with skills ranging from writing a simple internal memo or proposal to planning and implementing programs on the job.