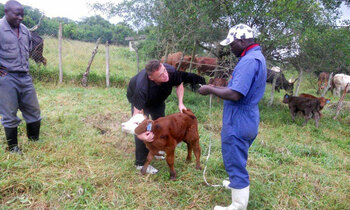 PIC: Some of the calves from the high breed American embryo transferred into local cows at Sembeguya Estates Farm at Kakinga village, Ntuusi sub-county in Sembabule district. Photo/ Mike Musisi-Musoke

A project for multiplying meat export to the Middle East initiated by President Yoweri Museveni six years ago has registered the second round of high breed American embryo transfer into local cows.

The project being undertaken at Sembeguya Estates Farm at Kakinga village, Ntuusi sub-county in Sembabule district allows the owners of the surrogate cows to predetermine the qualities they want in the calves, which include their sex and type, whether dairy or beef. The project is also being done in Rwanda and Kenya.
Recently, 30 embryos of the Simbra type, a composite breed of the American high yielding Simmental and Brahma species imported from M/S GGS Genetics of Michigan, USA, were inserted into local surrogate mothers.

The first such transfer was done in 2014 by another American firm called Transova Genetics of Michigan. The calves are now 18 months old and the bulls are of mounting age, according to Sembeguya Estates management.

Lecturers and students of Makerere University College of Veterinary Medicine, and interns from Bukalasa Agricultural College in Luwero district witnessed the recent second transfer of the embryos.

While inserting the embryos, Dr Michael Green, a US embryo transfer expert, called the earlier transfer at Sembeguya Estates as a first-class success, adding that at this rate, the country is destined to boast of a multiplied animal dairy and beef production.

Dr. David Lubega who led a team of Makerere bachelor of veterinary medicine students said the project offers high hopes for creation of an embryo transfer base in Uganda.

"Naturally, a cow produces four to five calves during its reproductive life, but with the embryo transfer project, hundreds of fertilised eggs can be extracted from one animal and implanted in many other surrogate mothers, thus producing a high number of quality offspring", Lubega said.

He hailed President Museveni for introducing the project, adding that: "Embryo transfer had not been embraced yet it is the best option in an economy looking for maximisation of income and output, given that with this system, one can have the type and sex of calves of your choice".

The director of the project farm, Paul Sembeguya, said the overall objective of the project is to reduce the average slaughter age from five-and-a half years to 18 months, and then step up slaughter weight from 150 to 360 kilogrammes.

Explaining further, Sembeguya said, "With these animals, we shall achieve a 40% off-take, that is, a farmer with 100 animals will be able to sell 40 animals weighing 360kg compared to the present off-take of 7% with an average carcass weight of 150kg at five years.