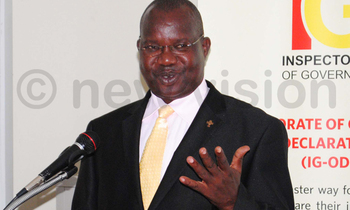 The Parliament committee on education and sports on Monday made an impromptu inspection at Greenhill Academy, a private primary school in Buwaate near Kiira, in Wakiso district and they queried the school management following the discovery of sex literature in their school library.
This follows the recent discovery at the school by the ethics minster Fr. Simon Lokodo when he visited the school last Wednesday.
Lokodo said that he visited the school upon getting information that its library has illegal books.
Lokodo said he stormed the school and the school management confessed they had copies of a book titled 'Love Lessons' in their library.
"My team confiscated copies found on the shelves," Lokodo said.
After the 4 hours probe into the matter, the committee visited the library and found some copies titled 'Girls In Love', a 156 page novel authored by Jacqueline Wilson.
When the MPs probed and scrutinized the library cards, 'Girls In Love' was the most borrowed book by both female and male pupils.
Other books with sex literature found at the library shelves were; 'A Kiss Like This For Primarily One', 'Girl Power', 'In The Night Garden', 'Now You Are One', 'The King Of Thieves', 'Juliet The Valentine Fairy'.
This prompted the MPs to impound over 100 copies for further scrutiny.
Committee chairperson also Mbale Woman MP Connie Galiwango tasked the deputy head teacher Mildred Namala to reveal the supplier of the books.
"The school ordered for the books from the supplier in 2015. They were supplied by one lady called Barnard, however we apologize we did not inspect the books before we put them for reading. When the library was officially opened for public use we just put all the books on the shelves" Namala said.
Workers MP Margaret Rwabushaija proposed the committee to summon Greenhill management and the board of directors to appear before the committee over the matter.
The school management is expected to appear before the committee this week, to explain the saga.
The committee also resolved that the school management should make a formal commitment to reveal the source of the literature.
The school rector Joy Maraka has since issued a formal apology to parents.
In a communication, she stated, "On behalf of Greenhill academy, I would like to offer our sincere an unreserved apology to the entire Greenhill community for the age-unsuitable literature that was found in the library Greenhill Academy Buwaate and inadvertently accessed by one of the students of the school.
Lokodo revealed that his ministry has similar ongoing operations around the country to check on what kind of books children are reading.