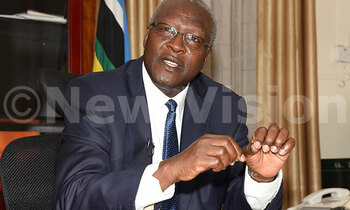 A revelation by President Yoweri Museveni that retired judges would be paid monthly salaries has been explained by Chief Justice Bart Katureebe, emphasising that retired judges are living a miserable life.

Katureebe told New Vision that the request to be paid salaries after retirement is part of a wider pension proposal that the judiciary has written to Museveni to help prepare a softer landing ground for the men and women in periwigs.

"We wrote a proposal to President Museveni suggesting that judicial officials who retire should get their full benefits because they are not allowed to engage in other private businesses and they end up living a miserable life," he said.

Paying judges salaries after retirement is part of the pension proposals that they expect the president to address conclusively, he added.

While addressing a conference of doctors at Imperial Royale Hotel On August 13, Museveni said the government plans to continue paying judges salaries even when they retire.

"We have resolved that a judge will get a full salary even if he or she retires. This is to compensate them because we know that they earn less than what other judges in the region do," he said.

To some judges and other judicial officers, the plan is a welcome gesture that would liberate judges from the confines of misery upon retirement.

"Due to the judicial code of conduct, after retirement you cannot be accepted to go to do other business. Therefore, I commend it because it will be a very good move," said Justice Steven Musota.

According to Joshua Kisawuzi, the Public Relations Officer of the Judiciary, judges have been craving such reasonable retirement interventions that would mitigate the poor conditions that retired judges face.

"It is very embarrassing for judicial officials to lead a miserable life," he said.