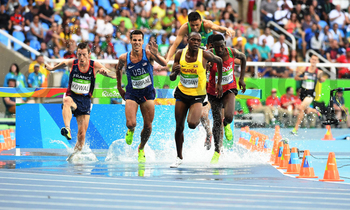 Jacob Araptany today gave Uganda a smile when he became the country's first athlete to make it past the preliminaries.
After false starts in boxing, swimming and the women's steeplechase, Araptany came like a burst of fresh air.
He stormed into tomorrow's 3000m steeplechase final after finishing second in his heat in the Joao Havalenge Olympic stadium.
Araptany, a world junior bronze medallist, clocked 8:21.53 in a heat won by Kenya's Conselus Kipruto in 8:21.40.
Araptany has big dreams for the final.
"I will do my best. I learnt my lessons from the last Olympics. Now I know exactly what to do," stated the Ugandan who failed to advance from the preliminaries in London.
Among the people Araptany will be up against tomorrow will be two time Olympic champion Ezekiel Kemboi. He finished fourth in the first heat.
The only other Ugandans who have so far featured in finals are Adero Nyakisi in the women's marathon and Juliet Chekwel and Joshua Cheptegei in the 10000m.
While Cheptegei was sixth, Chekwel couldn't complete the women's 25 lap race after she miscounted her laps.
The competition however proved too much for another Ugandan Benjamin Kiplagat.
Kiplagat, making his third Olympic appearance, couldn't this time progress after finishing sixth in his heat.
Meanwhile Ronald Musagala will be the first Ugandan in middle distance action. Musagala will be running in the 1500m on Tuesday.
This will be a day before Winnie Nanyondo and Halima Nakaayi also compete in the 800m.