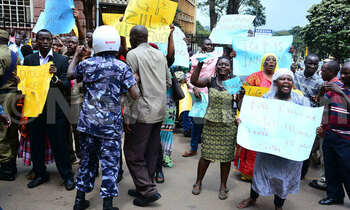 POLICE today dispersed scores of youth at Parliament main entrance protesting Court criminal summons to the Inspector General of Police Gen. Kale Kayihura.
Kayihura is supposed to appear before the Makindye Chief magistrate's court on Wednesday to be charged in connection with beating of Col. Kizza Besigye's supporters recently.
The youth chanting " Kayihura talina Musango", (Kayihura is innocent) paralyzed businesses along Parliament avenue during the lunch hours. Police closed the roads leading to parliament.
Last month Makindye Magistrates Court issued criminal summons to the IGP Kale Kayihura. The private criminal proceedings were instituted in Makindye Chief magistrate's Court by two law firms Lukwago & Co Advocates and Namugali & Walyemera Co Advocates.
Court also sanctioned criminal summons to, other senior officers over the police brutality against civilians and supporters of Opposition leader Dr. Kizza Besigye.
Recently, Parliament passed a resolution condemning the police brutality against civilians and Besigye supporters. MPs have also been demanding for Kayihura to appear before the internal affairs committee over the beating of Besigye supporters.
The youth who pitched camp at the Parliament main entrance carried placards inscribed with words "Afande Kayihura cannot be held liable for the cases committed by his junior officers", "A dad is not held liable for cases committed by his children."
It was not clear who was behind mobilizing the youth.
At the Parliament's main gate police blocked the protestors from entering precincts of Parliament to present their petition before Parliament Speaker Rebecca Kadaga.
The groupwanted to petition Parliament Speaker Rebecca Kadaga protesting criminal summons to IGP Gen. Kale Kayihura to appear before court.
Asked if they had a written petition for presentation to the Speaker, one of them said "We shall talk to the speaker verbally in addition to our placards." This prompted the police to chase them away.
The Parliament Director communication and Public affairs Chris Obore said "every Ugandan has a right to petition the Parliament Speaker, it is the Speaker to take the decision on whether parliament investigates the petition or not."
But he noted that the protestors lacked leadership, reason they were denied chance to petition.