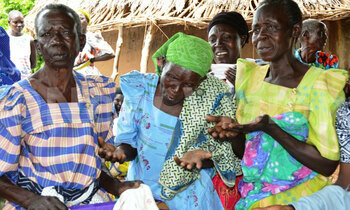 PIC: The relatives of Misaki Alunyon morning after he was killed over a wife in April. Photo/ Emmanuel Alomu

A cook at Katakwi High School in the Eastern District of Katakwi has killed a man after he returned home from work and found him having sexual intercourse with his wife Christine Aongorit, 36.

Moses Ourien, 38, is reported to have clobbered James Oluka on Wednesday evening into comma before the victim died in hospital of his injuries.

Police said after crime, Ourien handed himself over to police. "I found him sleeping with my wife and I suspect he is dead," he told Police.

Oluka is a resident of Awoja Village in Gweri sub county, Soroti district but has for the last three months been staying with his in-laws in Adurukoi village, Katakwi district.

Police said they rushed the victim to Soroti Regional Referral Hospital where he passed on Friday morning.

Robertson Elungat, the acting District Criminal Investigations Officer (CID), said Ourien has been charged with murder.

By the time of compiling this report, the body of the deceased was still lying at Soroti Regional Referral Hospital waiting for post-mortem.

Peter Ebau, the LC-III Gweri Sub County said, "A wife is not shared like food. In Teso, a wife and land are most paramount."

Ebau, however, said the owner of the wife should not have taken the law in his own hands, adding that Ourien should have used the authorities to settle the matter amicably.

This is not the first time, police in Katakwi to receive such cases this year.

In April, Paul Lokong a UPDF soldier attached to 4th Division in Gulu District stabbed to death Misaki Alunyon, 39, for allegedly sleeping with his wife, Helen Christine Akori at Osudan Village in Katakwi Sub County.

Police has cautioned locals against taking the law in their own hands.