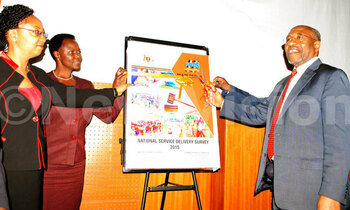 PIC:Prime Minister of Uganda, Ruhakana Rugunda, acting executive director of Uganda Bureau of Statistic, Atai Imelde Musana and permanent secretary for ministry of public service, Catherine Bitarakwate Musingwiire launching the report on National service Delivery Survey on August 5, 2016. Photos/ Mary Kansiime

Prime minister, Dr. Ruhakana Rugunda has this morning launched the fourth national service delivery survey report whose aim is to help government make informed decisions on matters affecting service delivery in the country.

The launch at the president's office in Kampala was graced by minister of public service, Muruli Mukasa, state minister for public service Herbert Kabafunzaki and a number of government technocrats.

"This report will help us realize whether we are making progress or not and whether citizens are satisfied with coverage, quality and quantity of service delivery," Rugunda said during the launch.

Rugunda lauded achievements achieved in the sectors of health, education, energy and access to safe drinking water as highlighted in the report.

"Despite the obvious challenges highlighted in the report, the achievements in this sector are serious milestones we should all celebrate," Rugunda said.

The survey was conducted last year and its findings were disseminated by UBOs in June. In tandem with ministry of public service, UBOS conducted survey in the realms of health, education, water and sanitation, energy use, transport services, law and order, lands and housing, among others.

One of the most contentious issues in the last presidential elections was the alleged poor service delivery - especially in government health facilities.

Since his investiture, President Yoweri Museveni has promised to make the issue of better service delivery an integral component of his presidency.