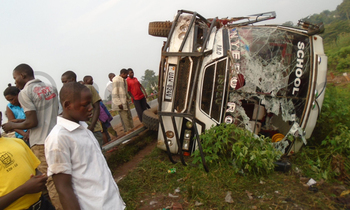 One person died instantly while 80 pupils were admitted at Iganga Main Hospital; some in critical condition following an accident at Busei village involving three vehicles.
The deceased Ibraen Ibrahim Abdulah, a trailer driver from Somalia died on the way to Iganga Main Hospital.
The incident occurred when a fuel tanker Abdulah was driving burst into flames after it was involved in an accident with another trailer travelling from Kampala to Malaba.
According to an eyewitness, Halid Bogere, the fuel tanker which was moving from Busia border town burst into flames after being knocked by the speeding semitrailer.
The semitrailer just knocked a bus belonging to St. Ann Madera Girls Boarding School located in Soroti Municipality.
According to Bogere, the bus overturned after being hit from behind by the trailer which rammed into the oncoming fuel tanker.
The school bus driver had parked along the road side as a precautionary measure after sighting another accident ahead but the semitrailer simply rammed into them.
The driver of the semitrailer took off after the accident.
According to one of the St. Ann Madera teachers, Christine Odera, they were returning from a study tour of Jinja where they paid a visit to Kakira Sugar Works, TipTop bread factory, and Nytil.
Odera said the driver of the school bus saw an accident ahead and stopped in order to allow easy flow of traffic but they heard a loud bang after being knocked from behind.
The bus overturned and fell into a ditch on the road side. The accident happened at around 10:30pm on Thursday.
The Iganga district Police commander, Nassibu Nditta, attributed the accident to over speeding and recklessness on the part of the driver of the semitrailer.
He said police is hunting for the driver to answer charges of causing death through reckless driving.
Police fired in the air several times to disperse a group of people who wanted to siphon fuel from the trailer after it had caught fire.
By press time the burnt body of the deceased was still lying at Iganga Main Hospital mortuary waiting to be claimed by relatives.
Busei trading center has of recent become a black spot claiming the lives of many pedestrians and passengers since the start of the year.