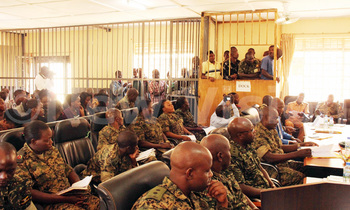 PIC:The (UPDF) officers, charged along with Nakawa division MP, Micheal Kabaziguruka before Makindye military Court Martial on Tuesday. Photos/ Meddie Musisi

Two Uganda Peoples' Defence Forces (UPDF) officers, charged along with Nakawa division Member of Parliament, Micheal Kabaziguruka over alleged plot to overthrow the government, have insisted they were promoted while in detention.

Corporal Richard Odama and Lance Corporal L/Cpl Inyan Godgfrey who appeared before Makindye military Court Martial for mention of their case told court they were promoted to the rank of Sergeant and Corporal respectively.

The accused have been in custody at Military Police headquarters in the city suburbs of Makindye for a month.

When the court registrar, John Bizimana called the accused by their previous ranks, they objected, saying they had been promoted.

The General Court Martial was presided over by Lt. Gen. Andrew Gutti.

For about five minutes, they contested the ranks read out by the court registrar. Speaking in kiswahili,

Odama said "Mimi yiko sergeant Odama siyo Corporal, meaning I am a Sergeant and no longer a corporal.

This prompted prosecution led by Raphael Mugisha to ask court for a two week's adjournment so that the state can amend the charge sheet to include the new ranks. He also said investigations were nearing completion.




"Some of the accused were promoted while in detention which is normal. It is our duty to amend the charge sheet to include the two ranks and the accused will plead to the charges again," Mugisha told court.

Clad in a black pair of trousers and a short-sleeved checkered blue shirt, Kabaziguruka and his co-accused arrived in court at 11:15am aboard a green double-cabin pick-up, escorted by a prison van. The accused were led to the court dock at 12: 20pm.

Meanwhile, Kabaziguruka who looked composed before the chairman kept on flashing the 'V' sign to his supporter and relatives who were in court.

Kabaziguruka told court that he will not hire a lawyer because the army court has no jurisdiction to try him.

"I will not appoint a lawyer to defend me because I cannot engage him in a court which has no powers to try me. While illegally here, I will represent myself," he said.

There was drama in court when most of the suspects defied being tried by the army court, saying they are civilians. Some of them opted to be represented by Maj. Ronald Iduuli, who was transferred by the army.

Other accused persons are Capt Andrew Ojaa, Cpl Geofrey Idro, Cpl Raymond Drachiri, Pte Jacob Obua, Pte Christopher Omony, Pte Geofrey Amude, Pte Shafik Masembe, AIP Ferdinand Obulejo, Rtd Pte Bilal Asuman, Cpl Emmanuel Tibesigwa, Cpl Justine Elwelu, Pte Ibrahim Angola, Pte James Matagi, Pte Lucy Achan, Pte Paul Billy Oguti, Pte James Byamaka, Pte Ambrose Oonyu, Pte Benon Tugume, Rtd Pte Namara and Lutwama and Felix Aluge, 35.

The suspects are facing charges related to security and treachery to which they pleaded not guilty. The offences carry a maximum penalty of death on conviction.

The accused soldiers are attached to the headquarters of Land forces, Bombo in Luwero, Military Police in Makindye and Nakasongola Air Defence Division. The accused were represented by Maj. Asha Patra and Eugene Kabagambe.

Maj. Patra told court that he got instructions from the accused, objecting to the jurisdiction of court, adding that she filed written submissions on the same before the court's next session.

Prosecution alleges that the accused and others still at large, between February and June 2016 in different places of Wakiso, Kampala and Luwero districts, committed acts of treachery, infiltrated the UPDF and engaged themselves in war-like activities against the government.

Prosecution further alleges that the accused and others still at large in the same months and places plotted to overthrow the government by use of arms.

Effort to reach the spokesperson of UPDF, Paddy Ankunda was futile, as he was not picking his phone calls.

The case was adjourned to August 16, 2016.