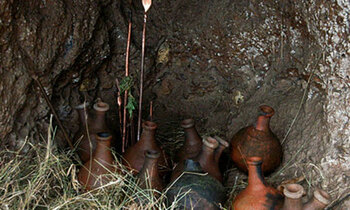 KABERAMAIDO - The LC3 chairperson of Ochero sub-county in Kaberamaido district has ordered witchdoctors out of his area within two weeks.

Charles Kennedy Ojuku said the area leadership had resolved to drive out all witchdoctors on the basis of their reported "bad practices".

He said Ochero has seven known witchdoctors distributed in different parts of the sub-county.

In May 2015, a resident named Peter Olobo was mutilated and beheaded. He was buried without his private parts and head since the missing parts have never been recovered to this day.

Chairperson Ojuku said this kind of vice was being attributed to witchcraft.

"All along we have been wondering what could have caused the mutilation of someone's head and private parts. The conclusion tends towards some of the witchdoctors," he said.

He went on say that some witchdoctors were creating an atmosphere of fear and unease in the rea because of their herbs and charms.
Local leader Charles Kennedy Ojuku says witchdoctors have to go. (Credit: Michael Onyinge)

Ojuku also said some of his people had been conned out of their money under the disguised promise of wealth, love and protection.

It is understood some of them are being implicated in cases of defilement of "vulnerable" girls, with police investigations into the reports going on.

Against the backdrop of these reports, the witchdoctors have now been ordered to pack up their stuff and leave the sub-county.

It is not the first time such a move is being taken in the district. The LC3 chairperson of Alwa sub-county, Alfred Gabon Enangu, has also previously ordered witchdoctors out for causing "a lot of division and separation in families".

"There is no way we shall condone bad practices by witchdoctors in the community," he said.