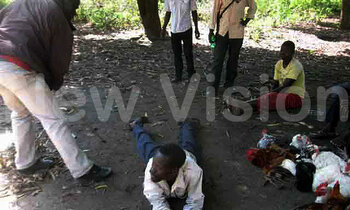 Several men found without toilets at their homes in Kaberamaido district were given strokes of the cane by members of the health and sanitation district taskforce.

During the inspection exercise, some local leaders and village health team workers were also found with no pit latrines.

Some were seen scampering off into hiding in nearby bushes as the inspection team went from home to home. But those caught offguard embarrassingly went down to take their punishment.

The leader of this enforcement team, Kassim Oyuu, said they want the sanitation standards of villages in Kaberamaido to improve.

And already, their efforts are paying off. The Assistant district health officer, Gregory Ocen, said that the district has 84% toilet coverage, up from 32% when they started the sensitization programme.

Despite this progress, bad apples still do exist. "It is unfortunate that after sensitising the local people, some become adamant and run or hide away from the inspection teams when they visit their homes," said Julius Edeku, a health assistant.

The team also found that some women collaborated with their husbands to hide from authorities during inspection.
"When we visited different villages, some men took off and only women stayed behind. Worst of all, some women hid their men under beds to evade authorities," said Moses Ebusu, who is part of the enforcement team.

The group is comprised of senior assistant secretaries, health assistants, GISOs and parish chiefs.

Meanwhile, Oyuu said the health sanitation week in Kaberamaido had been marked by the enforcement team visiting the worst performing villages while the district monitoring and evaluation group to the best performing villages.

Ominai 'A' and 'B', Odingoi and Ocoga - all in Alwa sub-county - were named by health assistant Lambert Odeke as the worst performers in terms of sanitation.

And in Ochero sub-county, health inspector Gilbert Emenyu revealed Awimon and Omulai as the worst villages.

During evaluation, health inspector Nicholas Engwau identified Ojolai as the best village, with 99% toilet coverage. Kaberamaido has 12 sub-counties in whole.

"We want all the villages to strive for 100% toilet coverage. Faeces from just one family or a poorly hygienic home can affect a radius that a fly from it can reach", said Oyuu.

The resident district commissioner Jimmy Ebil Ssegawa talked of government's efforts in ensuring that the district's overall health situation improves.

It was also revealed that in some cases, some people hired to dig pit latrines did not do the work and instead ate the money.

"Some of my people paid money for latrines to be dug but their money was eaten. I am going to begin hunting them down," said Omulai village LC1 chairman Peter Elayu.