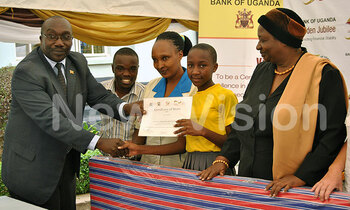 Some teachers are not reporting for duty at school for fear of being arrested by money lenders.

Rose Kobugabe, the Kyegegwa district schools inspector, said some teachers have taken multiple loans from banks and money lenders, and that some have not reported for duty since the beginning of the second term fearing arrest.

Teachers receive surety from the Chief Administrative Officer to obtain loans ranging from sh800,000 to sh2m from banks, money lenders and micro finance institutions.

George Mutekanga, the principal education officer from the Ministry of Education and Sports was the chief guest at a prize-giving ceremony of pupils who participated in an essay-writing challenge organised by Bank of Uganda.

He said a number of primary school teachers are struggling to pay back loans. He said the same teacher who is supposed to teach children about saving is hiding from loan officers.

He appealed to district education officers to intervene and advise their juniors against taking multiple loans.

"Save us the embarrassment and manage these teachers. We must address this before it goes out of hand."

Fabian Habyaremye, the district education officer for Kamwenge, said: "Teachers have acquired loans and are now absconding from duty to attend to their shops and boda boda business as one way of making extra income."

He appealed to the Central Bank to liberate teachers from financial illiteracy by organizing trainings for them.

Habyaremye said in one of the schools, a head teacher fled from a parents' meeting when court bailiffs came to arrest him.