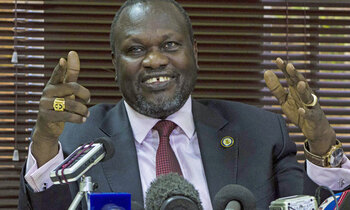 In an exclusive interview yesterday, Machar criticized Deng Gai's appointment. "I'm still the first VP of the republic of South Sudan," said Riek Machar.

"The appointment made yesterday by President Salva Kiir is illegal. It has no basis because the peace agreement does not give him the powers to appoint a first VP under the current circumstances. As you know the appointment of Taban from the perspective of SPM and SPMIO is not acceptable because he has defected and joined the faction of President Salva Kiir. He cannot appoint someone who has defected to replace me."

Machar added, "With the appointment, he [Kiir] has taken the furthest step for the collapse of the peace agreement. I am waiting for the international community and regional body to say they will deploy troops to Juba and once they do that I will return to implement the agreement but what Kiir is doing is against the peace agreement and indicates it's collapsing."

Machar confirmed he was "around Juba" but denied he was about to order his troops to march on the capital and reinstate him by force. "We will wait and have been waiting… As long as the international community and the regional third party force are beingwaited to deploy, we will not disrupt that, but if they fail, this will be an indication that the whole agreement is forsaken, by the international community and the regional body that brokered the peace agreement."